by Dr Melanie Lee, CEO
I recently chaired a panel at a Royal Society event that took us behind the scenes of some of the urgent and unprecedented collaborative efforts to find solutions for overcoming the COVID-19 pandemic in its early days. A key take-home message was that bringing together diverse teams united under a clear purpose can deliver extraordinary results.
My panel on 'Translational case studies and opportunities' was part of the Royal Society's 'The Science of COVID' conference that explored the basic science, vaccine efforts and diagnostics logistics, treatment and recovery from long and acute COVID, as well as the opportunities for the life sciences, and how this can be taken forward for future pandemic preparedness.
I felt privileged to be invited to chair the panel and it was very stimulating to be back at an in-person event – in a room full of leading scientists and experts from government, regulatory, industry, charity, and funding bodies who had made critical contributions to addressing the challenges of COVID-19.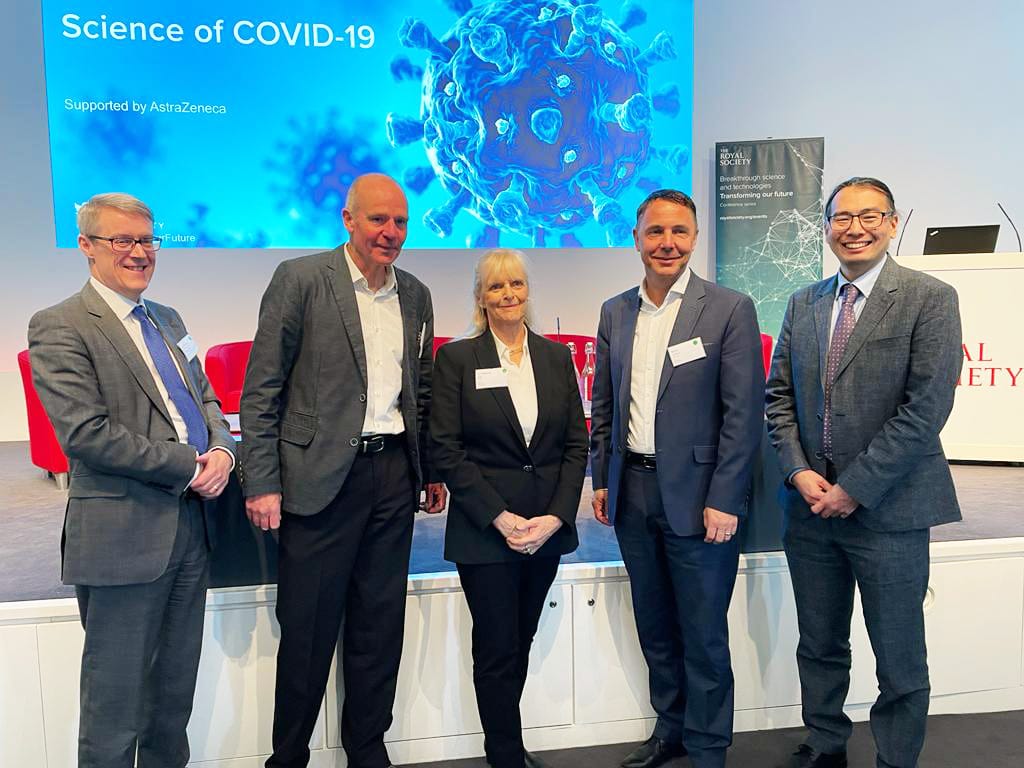 During my introduction to the session, I shared two thoughts about how we can apply lessons learned from the pandemic to other health challenges faced by humanity, such as antimicrobial resistance and dementia.
The first was around the importance of creating urgency. Collaborative working drove the pandemic outputs and was propelled by a collective threat to our existence – providing an extraordinary force that made us forget the usual barriers that often stand in the way of progress. We now need to find ways to bring to the fore the importance of other threats in a way that will help them to be similarly prioritised.
The second was that we need to shift the focus away from working in scientific silos towards using a multi-disciplinary approach. The future of successful healthcare provision in the short, medium and long term will require massive cross-sector collaboration – and not just within traditional life sciences boundaries, but also stretching into areas including tech, digital engineering and data science.
The key ingredients for success
The panel had a fantastic line-up of speakers whose sense of purpose, commitment, ingenuity and persistence was breathtaking and would be a wonderful formula for the life sciences sector to apply to other currently intractable areas of urgent patient need.
Professor Patrick Chinnery of the University of Cambridge and Clinical Director of the Medical Research Council kicked off the session. He spoke about the work that happened to select drugs for UK COVID-19 treatment trials and how they achieved the independent prioritisation of candidate drugs with central coordination to prevent duplication, accelerating recruitment to deliver definitive trial results.
As he explained, making objective decisions on which treatments to select, and in which order, was complicated as our understanding of the disease and its pathogenesis was continually evolving on an almost weekly basis – and it was additionally complicated because it was also a time of intense emotional pressure.
Professor Chinnery concluded by setting out the key learnings for how a similar approach could be used for non-communicable diseases where treatment advances have been limited – highlighting the importance of coordination and leadership, the need for independent and agile scientific guidance, open data sharing, and international networking to minimise duplication.
Brian Holliday, Managing Director of Siemens Digital Industries followed with a presentation about the leadership, technology and agile thinking needed to urgently manufacture 20,000 ventilators for the NHS.
He described how the Ventilator Challenge UK consortium set about repurposing an existing technology from Penlon, gaining regulatory approval and manufacturing of mechanical ventilators at the speed and scale that was urgently required to save lives. He felt that the success of the programme was dependent on a variety of factors – which included a compelling purpose, removing the normal barriers to progress, getting the right people onto the project team, building strong relationships and the innovative use of technology.
The next speaker was Dr Kenji Takeda, Director of Academic Health and AI Partnerships at Microsoft Research. He described how scientific collaborations are exploring the use of machine learning for COVID-19 diagnosis, patient triage and pandemic modelling. He also highlighted the opportunities for how machine learning can help build a more resilient society now and in the future.
But he emphasised that making the best use of this data-driven technology relies on human ingenuity as well as collaboration between machine learning experts and also with domain experts, including those in the health and life sciences sector.
Professor Christopher Dye of the University of Oxford finished the session with his presentation on the challenges and successes of sharing data and information during the pandemic. He highlighted the ongoing tension between scientists who want accelerated data sharing – and ethicists, lawyers, data controllers and owners of the data who tend to put the brakes on it. While the call for data sharing is persistent, it becomes more intense during epidemics.
Professor Dye concluded his talk by sharing ideas for facilitating data sharing in anticipation of future emergencies – with a take-home message that incentives plus trust need to be at the heart of building resilient data sharing systems.
Final thoughts
At the end of the session, members of the panel were asked to each select one feature from their pandemic work that they would like to change in the future:
Brian Holliday chose the 'hackathon', which he himself has since used several times after witnessing its effectiveness during their pandemic effort. The approach, which brings together a diverse group of people, skills, insights and capabilities and to approach problems differently, is a method he'd like to see more widely exploited in the future.
Kenji Takeda echoed a similar message about team science and collaboration – bringing people together across disciplines and between different organisations to come up with brave solutions to support policy decision-making.
Patrick Chinnery added an extension to a similar theme, but specifically within the context of the NHS. COVID-19 has reminded us that the ability of the NHS to conduct research is a key strength that we must preserve and nurture. Recognising the key role that district general hospitals played in the recruitment of patients to clinical trials, he would like to see a return to the ethos that research is an integral part of good clinical practice.
Christopher Dye highlighted the unifying power of a common goal – and what can be achieved by a whole diverse group of people moving in the same direction.
An additional thought from me was that we need to improve our communication skills as scientists and be better at communicating science to the public.
Find out more
The Science of COVID event was part of the Royal Society's Transforming our Future conferences in the life sciences, supported by AstraZeneca. These meetings are unique, high-level events that address the scientific and technical challenges of the next decade and bring together leading experts from the scientific community, including regulatory, charity and funding bodies.
The video recording of the conference is available to watch online.