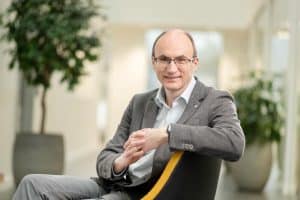 Dr Dave Powell joined LifeArc as our first Chief Scientific Officer earlier this year. He brings more than 27 years of experience in translational research in industry, biotech and academia. We asked him about why we are evolving the way we do our science – and the difference we hope it will make to people's lives.
What impact is our work having?
LifeArc has been working in translational research – bridging the gap between the lab and the patient – for more than 25 years. Our work to date has led to four licensed medicines, with a further eight potential drugs in clinical trials, and another 20 in different stages of discovery and pre-clinical development by a range of partners. We helped to humanise the antibody developed into pembrolizumab (trade name Keytruda),which is now helping people with cancer around the world. We are also cautiously optimistic about lecanemab, an anti-amyloid antibody which in a recent phase 3 clinical trial, slowed dementia in people with early Alzheimer's disease. These examples illustrate how our work is making a huge difference to people's lives today how it could continue to do so in the near future.
Why are we evolving our approach?
Advancing new diagnostics, therapies and technologies into the clinic involves many different people and organisations – including academics in universities, small and medium biotech companies and bigger pharmaceutical companies. While this ecosystem continues to deliver life-changing benefits for many people, some groups of patients can still feel neglected and somehave no treatment options at all. As a charity, we're guided by patient need rather than profit, which means we can invest in projects that don't traditionally attract funding or support.
In 2021, we launched our new strategy where we set out our future ambitions on an entirely new scale. We have committed to spending £1.3 billion by 2030 to solve some of the most complex healthcare challenges.
What are Translational Challenges?
Our Translational Challenges are a key part of this strategy – big programmes of work which aim to transform people's quality of life and save lives by revolutionising how specific diseases are detected, managed and prevented.
We're investing between £50 million and £100 million in each Translational Challenge, pursuing our own scientific research and working with other partners to connect and unlock the potential of scientific innovations to solve urgent healthcare problems.
Our mix of science, commercial know-how and funding combined with our status as an independent and self-funded charity means we can act as a catalyst for change and non-competitive partner bringing public, private and third sector organisations together.
Each Translational Challenge will focus on complex areas of healthcare need – which, for a variety of reasons, has not delivered benefits for patients to the same extent as other areas. This could be a condition such as motor neuron disease or a broader area such as chronic respiratory infection that affect people living with cystic fibrosis and bronchiectasis. Individual challenges could be enveloped into a wider theme, such neurodegeneration or global health.
How much are we investing in Translational Challenges?
We have committed to spend around £600 million on the Translational Challenges between now and 2030. Typically, this will be around £50 million to £100 million per challenge and this will be amplified through investment and collaboration from other partners. They will be long-term collaborative programmes that are shaped by what patients tell us they need.
This year we launched challenges in both chronic respiratory infection and motor neuron disease, and we will be launching more in 2023.
How have things evolved internally as a result?
LifeArc is quite unique because as well as proving funding, we also have in-house scientists who carry out research in our own labs.
And since we launched our new strategy, we've evolved the way we do our science to ensure we are in the best support the delivery of the Translational Challenges.
We're expanding our platform capabilities in certain areas where we are particularly strong – for example, our antibody and small molecule drug development work. We're also building our capabilities where we have less expertise, including creating a new Data Sciences function to ensure our projects have the best decision-making data possible.
We've changed how we work together – we have set up more flexible teams to oversee the delivery of each translational challenge. These teams will galvanise our efforts in each area by forging external collaborations and leveraging our internal capabilities and expertise to achieve common goals.
How do you feel about the future?
I'm really excited, both for LifeArc as a whole and for the science team. It's an amazing opportunity – we have up to £600 million to address unmet healthcare needs and make a huge impact on people's lives. We will develop the skills and knowledge of our science team to deliver this vision. They make us exceptional – and the passion and dedication of our team will help us to deliver that real impact on patients' lives.
We've got the finances, the people, the vision and the desire to deliver these Translational Challenges. I think our model is almost unique, and it's one of the reasons I joined LifeArc earlier this year.
I'm proud to be leading this amazing team.
Join us today
We're growing as an organisation – and it's a great time to come and join us!
Take a look at our current vacancies to find out more – and see how you can help us make a difference to patients' lives.