Fellows from the 2018-2019 LifeArc-AUTM Technology Transfer Fellowships Programme went on to build their careers and professional networks. Click on the links below to read about each fellow's experience of the programme.
Lucy Barber – Business Development Associate (University Partnerships Manager) for Ximbio, part of Cancer Research UK

I applied to the LifeArc-AUTM Technology Transfer Training Fellowship when I was in my final year as a PhD student, studying amyloid proteins at the Astbury Centre, part of Leeds University.
My PhD funders, BBRSC White Rose, offer the opportunity for PhD students to undertake a 3-month internship to use science outside of academia. I did this at Warwick Ventures, the university technology transfer office. It was here I realised my enthusiasm for Technology transfer. I learnt about the LifeArc-AUTM Fellowships through my mentor, James Lapworth at Warwick Ventures.
My expectations were blown away by the reality of this fellowship. I had expected some loose support and some broad but vague training. However, the fellowship provided a great deal of training, resources for asking for help, and kick started my network!
Time management
The programme fitted easily alongside my final year of my PhD. I was able to attend and focus on the conferences using my annual leave. When I started my new role in technology transfer at Ximbio, I was able to continue with the fellowship. It was very easy to manage and was an excellent resource in my first few months working in technology transfer.
The Fellowship provided great insights into technology transfer which I could present in job interviews. The continuing link with LifeArc was also seen positively by recruiters. The highlights of the Fellowship were the people I met. It has been really valuable to attend many of the key technology transfer (TT) conferences to get my name out into the field. I was able to make many influential connections, many of whom I have been able to draw upon for advice.
After completing the programme, I continued in my TT role at Ximbio and took on a role as a buddy mentor for the next cohort of Fellows. I have also been able to perform at, and maximise the benefit I gain from the subsequent conferences which I have attended.
I'm really proud to have been a 2018-2019 LifeArc-AUTM Fellow and I am glad of the lasting friendships which have ensued.
---
Eleftheria Ledaki – Business Development Manager, Autolus LTD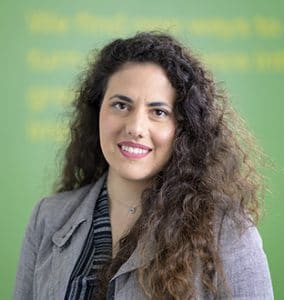 Prior to becoming a LifeArc-AUTM fellow, I was an MSc graduate researcher who had travelled all around the world working in different scientific laboratories. I have always loved science but felt I had skills that were not fully put into practice during my research years.
I felt I had a broader understanding of science so, to explore a different career perspective, I decided to take an MSc in Intellectual Property (IP) Law at Brunel University London while working as a Research Assistant at UCL. My new-found knowledge of IP law led me to approach Brunel University of London's Business Development and Innovation office where I interned to get hands-on experience in technology transfer.
An amazing opportunity
The Director of the Research and Development Office of Brunel University London sent me details of the fellowship and urged me to apply and it looked like an amazing opportunity for someone taking their first steps into the technology transfer (TT) profession.
Going into the LifeArc-AUTM Fellowship, I was eager to gain knowledge of the technology transfer process, as well as the profession itself, to understand which role would be the most appropriate for me within a technology transfer office (TTO). I was also looking to understand how I could create an initiative through my future network, that would address the challenges of small technology transfer offices and the need for support for early stage technologies.
All of the above expectations were exceeded. Knowledge wise, most of my educational requirements were covered in-depth in three different ways. Firstly, through the intensive AUTM Essential Tool Course, which I attended in October 2018 in Chicago. Secondly, through the on-demand webinars and thirdly, through my access to the AUTM network of TT professionals eager to offer their support. This network acknowledged me as a TT professional and offered me the confidence to feel part of an impactful community.
I got introduced to the importance of following the Registered Technology Transfer pathway that recognises TT professionals for their expertise and experience in commercialisation and knowledge transfer. This led to me pursuing and becoming a candidate RTTP and part of the AUTM Small TTOs committee, where I provide first-hand support to small TTOs for their challenges in commercialisation.
I can confidently say that the fellowship opens unimagined doors in the tech transfer profession.
Support for career development
My LifeArc-AUTM Fellowship ran alongside my full-time TT role at Queen Mary Innovation and added value to my everyday job as my knowledge, network and confidence as an early TT professional got expanded!
The fellowship has deeply supported me in my career development at Queen Mary Innovation. It has developed my expertise and opened partnering opportunities, thanks to thematic sessions and attending the AUTM Annual Meeting in Texas in February 2019 and the ASTP annual conference in Dublin in May 2019.
It has also provided me with unique opportunities to represent my TTO as an invited speaker in three international conferences (ASTP Proton 2019, Dublin, 2019 and UIIN, Helsinki, 2019, AUTM Annual meeting San Diego, 2020). I have learned about the best working practices of other TTOs (e.g. through access to the AUTM Members Discussion Group) and I have also gained recognition from my peers in the TT profession, by applying and being awarded the candidate Registered Technology Transfer Professional (cRTTP) accreditation.
Mentoring the next cohort
The fellowship has also made me eager to support other early TT career professionals through being a Buddy Mentor for the LifeArc Technology Transfer Fellow programme and the Ximbassadors (Ximbio internship in QMI).
It has also inspired me to educate the scientific community on the importance of the technology transfer profession. I have been invited as an organising committee and panel member to the 9th World Hellenic Biomedical Association Summer School in Medical and Biosciences Research and Management in Mani, Greece, May 2021. This conference educates lead scientists and clinicians to recent technological advancements. I am going to showcase the need to protect and commercialise research findings for patient benefit and provide support to any participant interested in a TT career. Lastly, I am using my expertise to support new entrepreneurial projects and teams as a mentor for the ACEin in Greece.
The LifeArc-AUTM fellowship taught me the importance of offering my experience and knowledge to teams that can benefit. This is what the TT community is all about!
My advice for future applicants is: do not be afraid to leave your comfort zone. Apply for the LifeArc-AUTM Fellowship, as it is an eye-opening experience that will change the way that you approach science, introduce you to a whole new exciting world full of education, unforgettable experiences, an amazing professional network and friends for life. This fellowship will shape you professionally and personally, and provide you with international recognition.
Please apply to this fellowship if you find yourselves wanting to move away from the lab – it is a once-in-a-lifetime opportunity. I know it has been for me!
Connect with Eleftheria on LinkedIn
---
Shalini Pathak – Senior Research Associate, University of Dundee
Before I became a LifeArc-AUTM Fellow, I was working in post-doctoral research at the University of Dundee. I found out about the programme from a colleague who had been in the previous year's cohort, who highly recommended it to me.
Initially, I expected the programme would involve a subscription to a few webinars or other materials, and provide access to some mentoring. But it was nothing like that at all – it far exceeded my expectations. It was very interactive. We got a lot of hands-on experience and became part of a community with the top people in the field.
My immediate line manager was very supportive of me undertaking the programme alongside my day job. There were a few days required for travel, for example to the AUTM Essentials Course in Chicago. Otherwise, much of the learning could be done online or in my spare time, so it worked out very well. This meant I could still work on my very challenging, milestone-dependent and time-critical industrial collaborations and also give my full attention to the technology transfer programme.
One of the highlights was gaining an introduction to the world of technology transfer. This gave me the opportunity to connect with the experts in the field and the best part was being able to draw on the expertise of the community and learn from them.  What's more, the guidance and support that the programme provided to explore career options in this field has been tremendous.
I went on to take up an internship with the technology transfer office at the University of Dundee and my goal is to find a full-time job in the technology transfer field but unfortunately, due to the COVID-19 pandemic situation and recruitment freezes, my efforts have stalled.
Connect with Shalini on LinkedIn, Twitter and ResearchGate
---
Isabel Ramos – Innovation Manager at Siemens Healthineers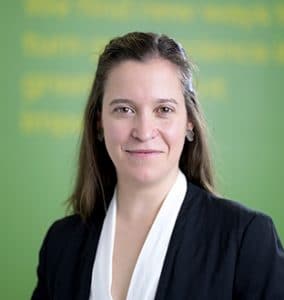 My background is in Biomedical Engineering, specialising in cardiac molecular imaging using MRI for my PhD at King's College London. While my degree and PhD have given me a good grounding in science, I knew that I would have to change direction to make a meaningful and direct impact on health and wellbeing.
As a scientist, I had already presented my work in international conferences and collaborated with a number of companies to develop my work further. I always enjoyed working with people from various disciplines to develop my research, especially from a translational perspective. After finishing my PhD, I really liked academia, but I also wanted to be part of technology development and I realised that the best opportunity for me would be technology transfer as it would give me a 'foot in both camps'.
I applied for a 6-month internship at Imperial Innovations, the commercialisation office of Imperial College London, working with TT Execs to protect intellectual property (IP) and carry out initial commercial and IP assessment of inventions.
The opportunity helped me formulate my ideal career – to be part of an innovative and dynamic team, gain exposure to various types of research and development, and to be responsible for helping to apply scientific knowledge through TT and commercialisation to the benefit of patients.
Then I joined the Translation team at the Crick as a Business Manager (maternity cover) and I was about three months into this contract when I successfully became a LifeArc-AUTM fellow.
I heard about the programme from previous fellows and after looking into it in more detail, it seemed a unique opportunity not only to learn more about technology transfer (TT) and gain more expertise on the topic by the training provided, but also attend conferences and seminars (which is hard to justify when working in a small TTO office) and expand my professional network.
It was an amazing journey!
Now, more than a year after it finished, I am still in contact with my mentor, Richard Cox, who has been an incredible support to me not just in terms of career advice, but also directing me to the right people when I have challenges in my work. I have also kept close contact with other fellows – we started off as a group of colleagues and now we are a group of friends that help each other with advice and aspirations. The programme worked really well with my job at the Crick and I had great support from my manager.
I met so many inspiring people through the LifeArc-AUTM journey. It was also great to see how collaborative and supportive the TTO community is. It has definitely helped me grow my network which will always be important for every job I apply for in the future. When I applied for the fellowship, I was in a maternity cover position. The training and mentorship that this opportunity provided truly complemented my day-to-day work and I was successful in securing a permanent position as a Business Manager at the Crick.
Working towards the RRTP certification
I am now working towards the RRTP certification and my plan is to continue doing business development in the academic environment for some more years. It's great to be involved in such early stage development of technology. The next stage also fascinates me; I would like to get experience within the biotech industry and get exposure to regulatory affairs and product validation.
I would say to any scientist thinking of a transition from the lab to a TT position: get an internship or approach companies that might be interesting to you and ask if you can shadow their work. Usually, we know what we don't like, but we are not sure about what we do like until we have experienced it. Many organisations are willing to be flexible about arrangements. This will expose you to different environments and help you decide if you want to work in that field.
Connect with Isabel on LinkedIn
---
Monica Roman-Trufero – Research Associate, Imperial College London
Currently I am a Research Associate at the Department of Immunology and Inflammation at Imperial College London. I have moved from basic research to applied research collaborating with biotech companies in drug development.
Potential new career options
I studied Biology at Complutense University in Madrid and did my PhD in developmental biology at the Centro de Investigaciones Biológicas also in Madrid. When I applied to the LifeArc-AUTM Fellowship Programme, I was a postdoc at the London Institute of Medical Sciences. I was introduced to a former LifeArc employee who told me about the programme, and I thought it was a great opportunity to explore a possible new avenue in my career.
When I applied to the LifeArc- AUTM Fellowship, I was expecting to learn the basic concepts of technology transfer, about the interaction between academics and investors or companies and I also expected it to be a way to help me determine the next phase of my career.
The fellowship greatly exceeded all that I had  hoped for. In the first place because the amount of learning material is great and it touches many different aspects of the job, which I think is fantastic for someone like me with no prior knowledge of technology transfer. The courses taken, with the associated practical cases, were particularly good. In the second place, I think it has been great to meet so many passionate professionals in the field. When I got accepted, I thought it could be challenging to be working in the lab and undertake all the courses and new material, but the programme is very well structured, and it was easy and convenient to follow together with my work in the lab.
A series of highlights
The whole fellowship experience was a series of highlights. I am extremely happy with the learning materials and the courses we did. The conferences were great and due to the networking opportunities offered to us, we were able to meet technology transfer (TT) professionals from all over the world and understand career prospects in other countries. And of course, one of the most remarkable aspects was meeting the 2018-2019 cohort of fellows, a fantastic group of people; we have formed a network where we not only help each other professionally but also have become friends.
Once I finished the programme I started applying for jobs in TT and in applied research where I knew I could use my experience from the fellowship. Currently I am working at Imperial College in an academic setting, but in collaboration with companies in the discovery of therapeutic targets in cancer and drug development. The knowledge acquired during my fellowship has been instrumental in facilitating the transition to this new position.
Connect with Monica on LinkedIn or ResearchGate
---
Maithili Shroff – Licensing Associate (Life Sciences) at UNHInnovation, University of New Hampshire
Prior to joining (and during) the LifeArc-AUTM fellowship, I was a PhD candidate at the MRC PPU unit, School of Life Sciences, University of Dundee, UK. Before my PhD, I had numerous different experiences in the Life Sciences field, working in academic environments as well as in industry: I have worked in a pharmaceutical company, a private laboratory, and a government hospital.
This programme was advertised by the Research and Innovation office at the University of Dundee. I also knew colleagues from the university who were successful in securing the fellowship in the previous cohort and the programme came highly recommended.
Theoretical and practical training
I expected to gain a better understanding of the technology transfer profession – both theoretical, through the training programme, and practical through interacting with my peers and other professionals within the field. The experience more than exceeded my expectations – so much so that it enabled me to make a career transition and land a job in a technology transfer office in the US! It is a fantastic and well-structured programme, even for an outsider to the tech transfer profession such as me.
The programme offered an opportunity to get some foundational understanding of the technology transfer profession through pre-recorded videos that were easy to integrate with work schedules. All the interactions with my mentor were also flexible and could be arranged to fit my schedule. For the value that this opportunity brings, it was not too difficult to devote 3+4 days in the entire year for in-person events (which were 100% the most valuable part of the fellowship).
As an outsider to the technology transfer profession, the course was really helpful in getting an understanding of all things tech transfer.
It provided a solid foundation of the fundamentals, with plenty of opportunities for acquiring specific specialist knowledge during the AUTM annual meeting. The Annual meeting in Austin was the highlight of the fellowship for me. It was a fantastic opportunity to meet and network with the tech transfer community and learn the tricks of the trade from the professionals. I also met my current boss at the annual meeting, so that was a definite plus!
Transitioning from bench to business
Before I started the fellowship, I was looking to transition out of the lab and tech transfer sounded like a good fit. All my experiences during the fellowship cemented that idea, and I knew that this is what I wanted to do. The fellowship gave me the opportunity to test the water before I took the leap and provided the perfect springboard to leap!
The mentors at AUTM and LifeArc offered helpful advice and guidance throughout the fellowship in terms of career prospects as well as different opportunities available within the industry.
After completing the programme, I did a short internship in the Research and Innovation Services office at the University of Dundee while I was completing a short post-doctoral tenure. I then moved to the US to take up the position of a Licensing Associate at UNHInnovation. Since my time here, I have acquired the candidate RTTP credential. All the theoretical knowledge gained during the fellowship has been put to practical use – from patenting to marketing and evaluations to negotiations. I have also helped co-ordinate programmes such as I-Corps and our Industry Days. I am continuing to engage in training courses and other activities to continue my professional development.
Life-changing opportunity
Making a career transition away from the bench can be really daunting and scary, it was for me too. But for those that are seriously considering it, this opportunity is not to be missed. If I have managed to do it despite many unfavourable circumstances, you can do it too! And if that is not enough, there is a certain recognition that comes with being a LifeArc-AUTM fellow, and one that really makes you stand out in tech transfer community.
I would like to thank everyone at AUTM and LifeArc for this life-changing opportunity. I am especially grateful to Anji Miller for her continued support above and beyond the duration of the fellowship. Thank you to the mentors who have taken valuable time out of their busy schedules and have helped and supported me and the other fellows. And to the fellows, past and present, for being an awesome and inspiring group of individuals who have excelled in their professional careers through this opportunity.
And last but by no means the least, I'm grateful to Marc Sedam for giving me this opportunity to truly embrace the TTO and become a part of the wonderful team at UNHInnovation. I could not have asked for a better start!
Connect with Connect with Maithili on LinkedIn
---
Filipa Tomé – Senior Innovation Consultant at PNO
I am from Portugal and a scientist by training.
I did my PhD in Plant Physiology at Bayer CropScience (Belgium) within a Marie Curie Initial Training Network, and then a Postdoc at the Max Planck Institute for Plant Breeding Research in Cologne, Germany, first as part of a Cluster of Excellence in Plant Sciences (CEPLAS) and then as a Bayer-Alexander von Humboldt fellow.
From bench research to innovation consulting within a year
After nine years of academic research, I decided to experience new professional avenues and took a position as a Scientific Innovation Officer at the Faculty of Sciences in Lisbon. It was during this time that I participated as a fellow in the LifeArc-AUTM programme and got to know Technology Transfer (TT) more closely. During the fellowship period, I started a new role as an Innovation Consultant at Innovayt, a Danish Innovation Consultancy, and I am now working in their offices in Braga, in the north of Portugal.
The LifeArc-AUTM programme came at a perfect time for me: I was right in the process of re-thinking my career and exploring new opportunities. I started connecting with people working on Innovation and Technology Transfer, and it was fortunate that one of them shared the post advertising the fellowship, and I immediately decided to apply.
Setting expectations
My expectations were clear: I wanted to get started, with everything this entails – get formal training, meet people that work in the field, understand what Technology Transfer is, and see if I would be a good fit for it.
The fellowship absolutely exceeded my expectations. I did get what I initially came for: the online training, opportunity to attend conferences and workshops to know more about the field, and all the framework to meet a lot of people that work in Technology Transfer. What it also brought was a fantastic group of people into my life, a set of experiences that gave me strength and confidence to tackle professional challenges, and a fierce motivation to continue to be part of this network.
As a scientist transitioning to a new career path, the LifeArc-AUTM Fellowship opened a whole new world for me: it paved the way to get to know Technology Transfer, gave me a unique opportunity to grow my professional network, and shaped my career in a truly positive way. It helped me recognise the value of innovation and the world of opportunities that comes with it. Overall, it was a very rewarding experience and I highly recommend it to anyone considering a career in Innovation and Technology Transfer.
There were no major challenges – even though the programme includes some events and workshops that require some travel, they were nicely spaced in time and organised in advance, so it was possible to plan and combine them with other work activities. The value of the training was also always very clear to my managers, so there was no problem being away for a few days to do them.
As a scientist willing to move into the innovation field, the programme gave me priority access to insights on the commercialisation of innovation and the entrepreneurship that underpins it.
Programme highlights
We had access to specialised training, a dedicated mentor, and a huge network of professionals who were always willing to support us. All these experiences formed the starting point for the skills I wanted to develop and that would be useful in my next career step, which is often the missing link when entering a new professional field. My perspective on the innovation ecosystem, not only at European level, but internationally, is much more refined and complete.
I have developed a network of personal connections around the world – a definite plus for my job as an Innovation Consultant.
The personal highlight for me was our last meeting in London, it was a special moment to look back and clearly see everything we did and where it has led us. I especially enjoyed the moment where we all gathered around the table and told each other how life had changed for us in only a year – all of us had either new positions related to Technology Transfer and Innovation or more clear future plans, and had accomplished so much thanks to the experiences the fellowship provided!
There was a great combination of opportunities provided and a group of ambitious people more than willing to make the best of them. The highlight, post-fellowship, is definitely the personal connection the fellows still have – we keep in touch and continuously support each other. It is also very rewarding to be able to mentor the new fellows going into the programme – I am loving the experience and the opportunity to give back what I have learned.
Continuous support
There was continuous support for anything we needed, at all times: more training, internships, new contacts, access to job offers, or simply (and so important), a word of advice whenever we needed it. I take this opportunity to personally acknowledge Anji, who was always there for us and made all of this possible. I am very grateful for having had this opportunity.
When I completed the programme, I had already started my job as Innovation Consultant. I am using all the skills and professional toolbox I have learned in the innovation projects I am now developing.
 Connect with Filipa on LinkedIn or ResearchGate
---