LifeArc is partnering with researchers at Royal Papworth Hospital NHS Foundation Trust to fund new UK-wide trials investigating if machine learning technology can transform how people living with chronic respiratory conditions manage their health.
The researchers will receive £1.9 million from LifeArc and £1.5 million from the National Institute for Health and Care Research to test the technology at scale in a clinical trial. Starting in early 2023, the programme, which has been co-developed by people with direct experience of cystic fibrosis (CF) and bronchiectasis, will enrol up to 500 adults with these conditions to test this new approach.
Previous studies have shown machine learning technology has the potential to improve health and spot signs of lung infections days before symptoms appear, avoiding admissions to hospital.
In this new trial, the research team, led by Professor Andres Floto (Royal Papworth Hospital and the University of Cambridge), will examine the impact of home monitoring and machine learning decision support algorithms for people with CF and bronchiectasis.
The team will receive advice and support from LifeArc to develop the technology to a commercial standard so it can be made available to patients worldwide. If proven to be effective at scale, the technology could transform the lives of patients and deliver substantial cost and time savings for the NHS. People living with CF are hospitalised for several weeks each year on average for emergency treatment for infection causing massive disruption to their lives. They must also attend hospital regularly to check for signs of infection.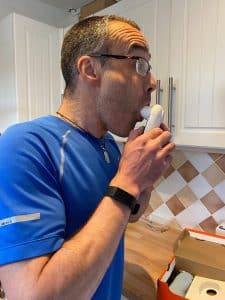 Professor Floto, Honorary Consultant at the Cambridge Centre for Lung Infection at Royal Papworth Hospital, said: "These studies are incredibly exciting. They have the potential to provide both immediate and long-term benefits to people living with chronic and debilitating lung conditions. It is a unique opportunity to empower people to take control of their own health and reduce the impact the disease has on their daily life, in turn improving their quality of care and saving time and money for the NHS."
LifeArc's Chronic Respiratory Infection Lead Dr Catherine Kettleborough said: "This new technology has the potential to transform how people living with chronic lung conditions like bronchiectasis and CF monitor and manage their condition. By detecting infections before symptoms appear, this technology could enable patients to start treatment earlier before they become seriously unwell, avoiding unnecessary hospital admissions and massive disruption to their lives."
The Royal Papworth Hospital team has previously completed a multicentre UK-wide feasibility study (SmartCare CF), which demonstrated the potential benefits of home monitoring in CF. From that, the team ran a clinical implementation programme (Project Breathe), introducing home monitoring into routine clinical care in four CF centres in the UK and Ontario, Canada.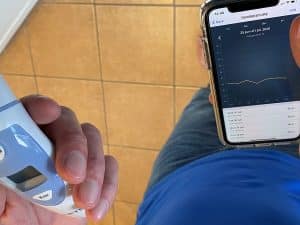 Research participants were provided with equipment – such as a FitBit, pulse oximeter, spirometer and electronic scales – to measure key indicators such as blood oxygen levels, lung function, weight, sleep and temperature every day, and then upload the results via a software platform (Breathe RM). This initial work received £3m award from the CF Foundation in the USA and was supported by the CF Trust in the UK.
Data scientists from the University of Cambridge and Microsoft Research have used this anonymised home monitoring data to train machine learning algorithms to predict future health deteriorations 10 days earlier than currently possible. This would allow clinicians to begin treating patients sooner to potentially head off serious, lung damaging infections.