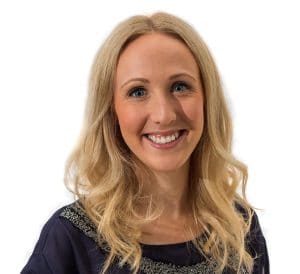 Dr Laura Stennett is a Business Manager at LifeArc where, amongst other activities, she provides technology transfer support to the Medical Research Council (MRC) and helps scientists at MRC Institutes to identify, protect and commercialise their research.
What were you doing before you joined the Fellowship programme?
I was a PhD student at King's College London and Bart's Cancer Institute, Queen Mary University of London. My research focused on elucidating the mechanisms promoting an invasive cancer phenotype and developing in vivo models to image cancer metastasis to the brain.
What attracted you to the programme?
By the end of my PhD, I knew I no longer wanted to work in a lab, but I was keen to pursue a career that allowed me to remain connected to science and translational research. A three-month internship with Cancer Research UK's Commercial Partnerships Team during my PhD, allowed me to explore my interest in technology transfer and LifeArc's Technology Transfer Fellowship presented a unique opportunity to upskill and gain further training and experience. Having previously completed an Industrial Placement at LifeArc during my undergraduate degree, I knew the emphasis placed on high-quality training and professional development, so I was thrilled by the chance to return to LifeArc to further advance my career in technology transfer.
What were your first impressions when you started your first rotation?
My first rotation was with the Startup Team at Imperial College. The Startup Team support companies being spun out from university research as well as companies founded by Imperial students and alumni. The Team are an integral component in Imperial's startup ecosystem and connect founders and companies with the wider investment community. I was immediately made to feel a valued part of the team whilst I was also given ample opportunity to work autonomously. I was particularly impressed with the extensive range of startups arising out of Imperial; from FinTech to MedTech and everything in between!
What were your highlights of the Fellowship?
I particularly enjoyed engaging with the extensive (and impressive!) entrepreneurial ecosystem at Imperial College. It was a fantastic opportunity to be a part of the team responsible for deploying the first Imperial College Innovation EIS Fund which provided a unique insight into the start-up evaluation and investment process. Another Fellowship highlight was during my time working with LifeArc's Opportunity Assessment Group; I conducted due diligence for a charity partner looking to better understand the patent and market landscape surrounding a gene therapy for a rare disease. Seeing first-hand the value added by the work that LifeArc do, emphasised the importance of collaborative working in translational research and confirmed that working in the lab is only one way of delivering impact.
How has your career progressed after the Fellowship?
After finishing the Fellowship in May 2021, I joined LifeArc's Technology Transfer Team as a Business Manager. I work to provide support to scientists at the Medical Research Council with respect to interactions with industry partners and focus on identifying, protecting and commercialising research conducted at MRC Harwell Institute. I also provide technology transfer support to LifeArc projects and external charity partners, and work as a member of the core delivery team to catalyse partnerships for LifeArc's 'Advise & Connect' programme.
How has the programme helped you with your career?
For aspiring technology transfer professionals, the opportunities afforded by LifeArc's Fellowship programme are unparalleled and allowed me to gain hands-on experience at leading technology transfer offices across London. I particularly enjoyed developing my skills across the full range of technology transfer activities; from discussing new inventions with academics, to marketing and licensing technologies. By the end of the Fellowship, I felt well equipped to pursue a career in technology transfer and I'm confident that the network I have built throughout the year will stand me in good stead in my career moving forwards.
How would you describe the programme to your peers?
LifeArc's Technology Transfer Fellowship is a one-year programme that provides operational experience and training across a range of technology transfer activities. The programme is aimed at scientists looking to step out of the lab and develop their skills to pursue a career in technology transfer. It offers the opportunity to work at leading technology transfer offices and engage with the exceptional, world-class academics they support; every day brought new experiences and opportunities to learn from technology transfer professionals working at the top of their game.
LifeArc's commitment to training and professional development is embodied by their Technology Transfer Fellowship Programme. I thoroughly enjoyed the Fellowship year and would highly recommend it to anyone looking to pursue a career in technology transfer.