LifeArc scientist Finbar Gaffey has been selected as one of 10 young innovators to receive a coveted industrial fellowship from the Royal Commission for the Exhibition of 1851 for his project on motor neuron disease (MND).
In partnership with LifeArc and the University of Sheffield, Finbar hopes to be able to develop better, more accurate and reliable research models to understand the complexity of MND, that could help scientists find therapies for the future.
MND is a fatal neurodegenerative disease that causes the nerve cells that control voluntary movements like walking, talking and breathing to stop working. There is currently no effective treatment for MND.
Finbar aims to develop a highly reproducible cell model of MND, that could be used in large scale experiments, to identify a cellular 'signature' of the disease – a profile of cell changes that indicate MND.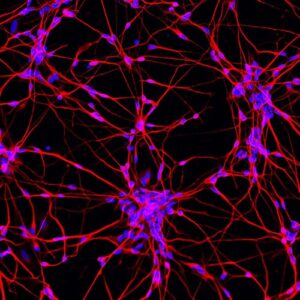 Using machine learning and genetic engineering, this signature will be compared against cells with genetic backgrounds that scientists believe could be linked to MND. If they match, it could confirm what genes are truly involved in MND. By validating these genetics, scientists will be able to test potential new treatments for the disease at a larger scale.
Supporting scientists of the future
Finbar will receive a PhD from the University of Sheffield at the end of the three-year project.
"To treat debilitating conditions like motor neuron disease researchers need accurate and reliable models to use in their experiments," said Finbar. "Through my project with LifeArc and the University of Sheffield we are hoping to develop such a model and investigate genes linked to the disease, which could ultimately reveal new ways to treat people with MND."
Dr Paul Wright, MND lead at LifeArc said: "We are delighted to see that Finbar has been recognised with an industrial fellowship by the Royal Commission for his research on motor neuron disease. We're proud to be part of this vital work and collaboration with leading scientists at the University of Sheffield."
The funding, awarded to talented young innovators in the UK by the Royal Commission, aims to bring academia and industry together to tackle some of society's biggest challenges.
Bernard Taylor, Chairman of the Royal Commission for the Exhibition of 1851, said: "The Commission supports some of the most skilled and accomplished researchers across the UK to pursue cutting-edge projects and develop products and services with commercial applications."