Today is the UN's International Day of Women and Girls in Science and we are delighted to have so many inspiring scientists working with us at LifeArc.
See how some of our inspirational women – including our CEO Dr Melanie Lee – were motivated to choose science as a career and the advice they'd give to the next generation of budding scientists.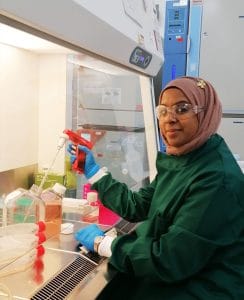 Zaynab
Zaynab is a scientist in our cellular sciences team
"I became interested in science, particularly human biology, when at school.  From then on I knew that I wanted to have a career in science. My industrial placement year helped to confirm that I wanted a career in medical research and drug discovery.
"Being a scientist offers an exciting career where there are always interesting challenges.
"For those choosing to study a science degree, definitely do one that includes an industrial placement year as you gain so much valuable experience!"
---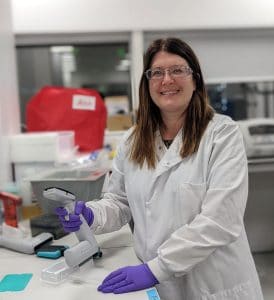 Hayley
Hayley is a senior scientist within drug discovery
"I enjoy how science logically answers complex questions. Science makes the body, and all the interactions within it, make sense.
"I love learning how our body's machinery works at the molecular level and then using these learnings to tackle disease. If you are thinking of becoming a scientist, don't doubt yourself – go for it!"
---

Ela
Ela is a medicinal chemist in LifeArc's drug discovery team
"My job is to research new treatments for various diseases. What I find most rewarding is that the research I do may one day contribute to the discovery of a new drug. Here I am, working on the purification of a chemical compound (to develop a potential cancer treatment) using column chromatography.
"I love the scientific challenges, science discussions with my colleagues, making new discoveries, but most importantly of all, making an impact that may benefit a patient one day."
---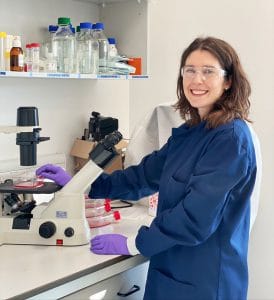 Sara
Sara is a scientist in biotherapeutics
"I enjoy working on highly innovative and challenging projects, developing new solutions for patient needs, and discussing ideas and scientific discoveries with brilliant scientists – like my colleagues. I learn something new every day.
"I pursued a career in biomedical science because I want to have a beneficial impact on improving people's lives and make a positive contribution to society. Working in science allows me to fulfil my personal values and feel part of a like-minded community with the same passions and objectives.
"If you are thinking of becoming a scientist, be determined and open-minded. Working in science sometimes seems challenging and frustrating because many attempts and failures are required before getting successful results. But if you have your purpose and objectives clearly in mind, you will be able to overcome any obstacles."
---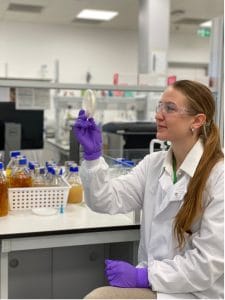 Viktoria
Viktoria is an associate scientist in the biology team
"The best thing about being involved in science is being part of an ever expanding and changing field, where exciting innovations are constant with opportunities to make a true difference for patients.
"My curiosity in science inspired my career. I wanted to play if even just a small part in solving the mysteries of human disease and how to best tackle them with therapeutic interventions.
"Women/girls are more likely to underestimate themselves and their capabilities so my biggest advice to girls who are aiming for a career as a scientist is to not doubt yourself – you've got this! Listen to your gut feeling and pursue what sparks interest and fuels your passion as this will make difficult times worthwhile in the end."
---
Sylviane
Sylviane is a scientist in the biology team
"The best about being involved in science is that you feel that you are part of a train which will lead to a great station. The things that you do like pipetting, culturing cells will at the end contribute to significant advances.
"I always loved biology (I was one of the rare ones, even my family hated it!). It was my favourite topic at school. I always enjoyed discovering more about how our body functions. From an early age, I knew that I would do a job one day linked to biology. The perspective of learning more, being like a kind of detective, answering questions that I was convinced would be relevant for the world, always fascinated me.
"If you are planning a career in science, trust yourself! Don't, fear taking risks and more importantly enjoy! Science rocks!"
---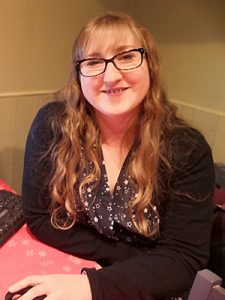 Jenny
Jenny is a bioinformatics scientist
"I am creating a protein-protein interaction network around potential drug targets, which will allow me to investigate their functions and how they are connected.
"My job is often like a giant puzzle that I am trying to solve, one piece at a time. I really enjoy this challenge and the fact that my investigations into the complexity of a disease can contribute to the development of new medicines is truly rewarding."
---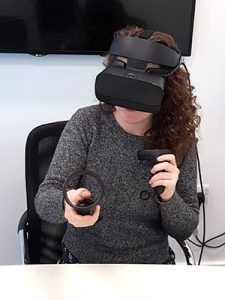 Meabh
Maebh is a postdoctoral bioinformatics scientist at LifeArc and Milner Therapeutics Institute, University of Cambridge
"In the photo  I am using virtual reality to visualise a network of  protein-protein interactions which take place in a disease of interest, in which I am trying to identify druggable pathways. I love that my job is essentially solving puzzles."
"If you are interested in becoming a scientist, read as much as you can about the different branches of science to see which area you'd like to pursue."
---
Victoria
Victoria is a senior scientist in the biology team
"I have always been quite inquisitive and really enjoyed science in school. I was fascinated to learn about how things worked and the different mechanisms behind living systems. When I was around 14, I was very fortunate to go on a school trip as part of a STEM outreach programme to ICL to spend a day with some of the best researchers. It left an impression and played a part in me deciding to pursue science at university and to become a scientist.
"To girls who are thinking of becoming a scientist, I would say follow your passion, do not let anyone discourage you to do what you love. Don't be afraid to ask for advice or to ask questions. Seek out role models and take every opportunity to talk to or shadow other scientists."
---
Alice
Alice is a scientist working on protein production and biophysics in the drug discovery team
"I was inspired to have a career in science as I've always had a curiosity for how things work. I also wanted to do something which could help others. I enjoy the varied nature of the job, working on different projects using different techniques in the lab.
"I would advise girls interested in a career in science to follow their dreams. I would recommend speaking to people who are a step ahead in their career to find out more"
---
Teresa
Teresa is an analytical scientist in drug discovery
"The instrument behind me is a LC-MS(Q-TOF), liquid chromatography with mass spectrometry. I analyse different drugs after various assay to understand their in vitro behaviour and in this way help to identify which compound could be a "potential" new drug.
"I love implementing and developing a new assay which can be used as a new tool in drug discovery."
---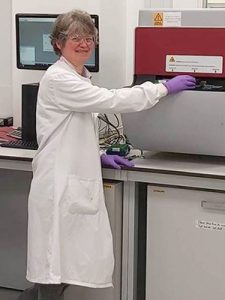 Kathryn
Kathryn is a senior scientist in the biotherapeutics group
"This instrument is an Octet and allows us to see binding interactions between molecules in real time. Here, it was being used to measure how much of our engineered antibodies had been produced by cultured cells.
"The best part of my job is seeing the results of an experiment, especially when they confirm a prediction and allow us to progress towards making the ideal therapeutic molecule."
---
Sharandip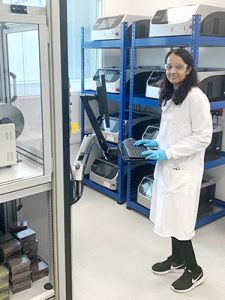 Sharandip is a scientist in drug discovery within biotherapeutics
"My love of maths and science at school inspired me to have a career in science, where I could follow my interest in helping people.  The best bit of my job is hearing and learning about interesting new science. I really enjoy testing and learning new technologies and techniques.
"For girls who are thinking of following a career in science, I would advise they ask questions, take time to research, and explore options. Try and get as much experience as possible. When choosing a university course look for one that offers lab work or an industrial placement. This will be really useful when looking for work after uni."
---
Zhi
Zhi is a senior scientist in drug discovery
"The best part of my job is to come up with new ideas to push a project forward, or increase the impact of projects and knowing in a way (regardless how small) it may lead to patient benefit. And also taking beautiful pictures of cool cells."
---
Sophie
Sophie is a scientist in the biotherapeutics team
"In my picture I am doing transfection for protein expression.
"I love the fact that my job lets me constantly learn new things."
---
Anji
Anji is a senior business manager
"My role allows me to apply my scientific, legal and business skills, to commercialise great translational science to impact patients, and develop and guide technology transfer professionals of the future. As a STEM ambassador and EDI advocate, it is important for every female scientist to know that they can make a difference.
"The intellectual challenge and knowing that my discoveries/contribution will positively impact lives inspired me to go into science.
"My advice to girls who are thinking of becoming a scientist is to be bold, ambitious and follow your passions. Contrary to popular belief there are many career options for a scientist both in and outside of the lab. You can be whatever you chose, and the only limits are those that you allow others to impose."
---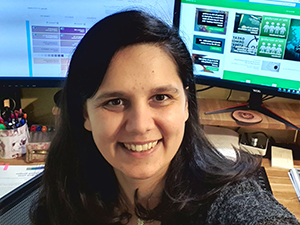 Magdalena
Magdalena is clinical development lead in diagnostics
"My main responsibilities include planning, designing and set-up of clinical studies for diagnostic tests we have developed, and sourcing of clinical samples for the pre-clinical stages of the projects.
"I love that in my role I continue to learn and develop skills in clinical research, and work on projects that can truly make a difference to patient care."
---
Sue
Sue is head of site services at our Stevenage site
"Originally, I was a bench scientist working in Molecular Biology (I worked in the antibody engineering group), so I understand the needs of scientists and do my utmost to keep them safe and healthy through their working career. This may mean I'm up on the roof checking the extract which maintains the essential airflows within the labs.
"This is particularly critical during the Covid-19 pandemic as these airflows give us the ability to work safely during this time. As well as working behind the scenes, I also carry out health & safety inspections of the labs and manage the Site Services team, which supports the scientists on many levels – from ensuring all their special kit is working, to taking away their hazardous waste! I have a unique role in LifeArc that is challenging but really fulfilling."
---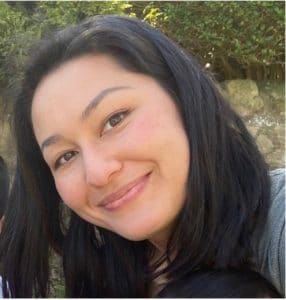 Sara
Sara leads the Clinical Development team in Edinburgh
"In a past life, I was a stem cell scientist, loving life at the bench and trying to understand the 'whats' and 'hows' and 'whys' of basic scientific research, but since joining LifeArc and building the Clinical Development team, the science I "do" now is much more focused on the clinical considerations of getting diagnostics to patients.
"After I finished my PhD, I needed a (long overdue) breather and proceeded to work in roles where I thought "This will do me until I figure out what I REALLY want to do!" But I always wanted to see science make a difference in real life – I wanted to see it translated to the clinic. Then my current role happened and the rest, as they say, is herstory…
"My advice to young girls and women interested in STEM – don't be afraid to ask questions (no such thing as a stupid question), to ask for help (anyone worth your time is usually happy to lend you theirs), and to be proactive and reach out to those in your field(s) of interest – you never know how an interaction with someone (good or bad!) will change or shape your path."
---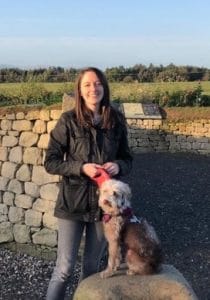 Sarah
Sarah is an assay development scientist in Edinburgh
"I am currently working in Diagnostics on the Crohn's and Colitis project to develop a prognostic RT-qPCR assay. Initially I worked in academia in veterinary research developing vaccines for chickens and sheep and then made the switch to LifeArc to work on development of human diagnostics.
"My proudest moment in science has been getting my PhD and helping the NHS at the start of the pandemic doing COVID testing.
"My advice for young girls and women thinking about entering the STEM field would be to seek out as many opportunities gain experience in whatever area you are interested in, as nothing beats real life experience.
"This may be a summer internship or even just taking a few days to visit a business or laboratory that you see yourself working with in the future. Be bold, work smart and, most importantly, be happy."
---
Agathi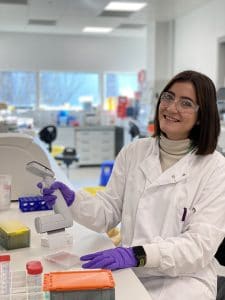 Agathi is an associate scientist in biotherapeutics
"I absolutely love being involved in science since it is an everyday challenge – you cannot get bored of it! Also, it is great to feel like you contribute in something so much bigger than yourself and being able to help make a difference in the world.
"Since I was a kid, I was always curious in exploring the world around me. I remember watching one of those Criminal Scene Investigation television series with my parents and admiring this laboratory lady who would usually provide the evidence to save the day! Later, I discovered my passion for STEM subjects, and I found biosciences really rewarding in having the power to change so many lives. I was right!
"Unfortunately, we live in a world that girls are still told that they cannot do certain things just because they are girls, including STEM careers. There are so many powerful women out there who have proven that girls can be anything they want to be. I would advise those girls to absolutely go for it, follow their passion, and to not underestimate themselves. Science is for everyone!"
---
Katharina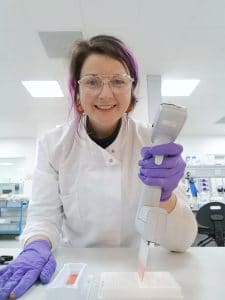 Katharina is a biological scientist
"I really enjoy learning new things, taking on challenges, and solving riddles, which is exactly what I am doing. What I like most is that I generate knowledge that might be useful for a medical application or help to develop a novel drug.
"Working in science is rewarding, fun and fascinating. But also try to find a mentor that believes in you and can give you advice when times get rough. Learn to distinguish constructive criticism that helps you to improve from damaging criticism, especially when the harshest critic is yourself. One last piece of advice, which is probably the most important, if something does not feel right, it probably is not."
---
Eliza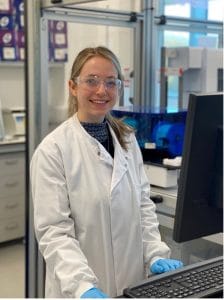 Eliza is an associate scientist
"The best thing about science is the huge variety of work that you can be involved in – no two days are ever the same.
"Biology was my favourite subject at school and I thought I wanted to be a doctor. However, when I started working at a care home I realised it was actually the underlying human biology I was the most interested in. My biology teacher, a former biomedical scientist, encouraged me to study biomedicine and my journey in research began!
"Be curious and open to exploring different areas within your field – you never know what you might end up being interested in.
---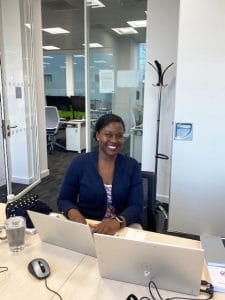 Yaa
Yaa is a project manager
"The best thing about being involved in science is exploring ideas that advance our understanding of the world around us and finding new ways to bring beneficial changes in health, quality of life and environment.
"I've always had an interest in science from a very young age, joining science clubs and participating in local science activities. My interest in exploring a career in science was inspired by learning about healthcare access issues in developing countries and wanting to contribute to research that could make a difference.
"To girls who are thinking of a career in science, I'd recommend engaging with science clubs, speaking with family members and science teachers about careers in science since there's a spectrum of science focused career options to explore."