At LifeArc, our in-house research teams develop and patent promising molecules, biotherapeutics, diagnostics and tools which can contribute to delivering medicines to patients. Here are examples of our innovative projects.
Collaboration helps to advance a potential new cancer drug towards the clinic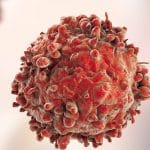 Scientists at LifeArc and the University of Glasgow discovered that our ULK1 inhibitor, MRT403, could offer a way to overcome resistance to existing treatments for chronic myeloid leukaemia (CML). Their study was published in Science Translational Medicine. Find out more about the UKL1 inhibitor.
---
Collaboration leads to promising new approach for Alzheimer's disease
A team from LifeArc and Göttingen University has developed a new approach to intervene in early-stage treatment of Alzheimer's disease and demonstrated its therapeutic potential in mouse models. Find out more about the new approach to Alzheimer's.
---
Keytruda: a new generation of cancer treatment
Our successful collaboration with Organon – ultimately acquired by Merck – to discover and develop novel biotherapeutics for oncology and auto-immune disorders resulted in the cancer drug, Keytruda. Find out more about Keytruda.