New £5m fund for gene therapy technologies
The new LifeArc Gene Therapy Innovation Fund is a £5m annual fund for gene therapy technologies – and includes support from the world-class network of Innovation Hubs for Gene Therapies.
The fund provides grants to academic researchers working to advance new gene therapy technologies from preclinical research through to early clinical studies. Successful projects will be awarded additional funding to enable them to use the manufacturing capabilities of the Innovation Hubs for Gene Therapies.
About the funding for innovative gene therapy research
The £5m Gene Therapy Innovation Fund aims to advance promising viral therapy technologies for people living with a genetic condition, including rare diseases and those where treatment options are currently limited.
The funding will support the development of potential gene therapies from preclinical through to early exploratory trials — including the manufacturing and clinical costs for developing these further. This unique package allows the technologies to remain in academia for optimal development and from where it is more likely to attract follow-on investment.
Applications close 15 September 2023. The next deadline for applications is 19 January 2024.
Application eligibility
We are looking to financially support at least two gene therapy research projects per year.
We encourage applications for technologies that address rare diseases and/or paediatric indications.
We will prioritise applications that include a partnership with other funders and medical research charities, for example as a representative of the patient population or as a co-funder. All funding will be allocated to the academic lead.
We do not ask for any return on revenue, or a share of intellectual property. If the work is successful, you or your partners continue to own the rights to commercialise the product to benefit patients.
Applications should be for an academic-led gene therapy project requiring manufacturing services.
Projects must be led by research-active professionals based at UK universities, hospitals or research institutes. We encourage applications involving a collaboration with other academic partners or industry and where the collaboration agreements are in place or planned. Lead applicants may only submit one application per round.
Application criteria
Applicants must be based in a UK university or institution.
The project must address a significant, unmet healthcare need.
We encourage interventions addressing rare and/or paediatric indications.
Co-funded applications will need to provide details of the terms of the collaboration.
Any non-academic partners included in an applications must provide identifiable project support.
The project must have a strong scientific rationale, be target-driven, with a credible delivery plan and milestones, and have a clear route to patients.
APPLY FOR THE GENE THERAPY INNOVATION FUND
Application review process
The funding  will support the academic-led, advanced therapy proposal through the project design stage using the services of one of the Innovation Hubs.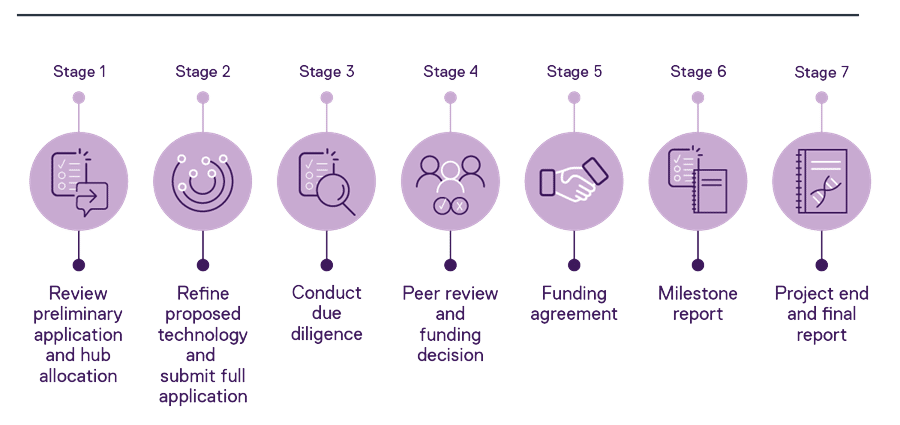 Stage 1: Review preliminary application and Hub allocation
We will review preliminary applications that are within remit and outline the planned approach and supportive data. The project will be matched to an Innovation Hub for further development.
Stage 2: Refine the proposed technology and submit full application
LifeArc and the allocated Innovation Hub will review the application's scientific, regulatory and technology basis, and also identify any gaps to be addressed before submitting a full application. In a process that will be tailored to the needs of the respective application, we will assist you to address any issues and refine the technology in preparation for your submission.
Stage 3: Conduct due diligence
Once you have submitted the full proposal, we will conduct due diligence on the information provided, and gain external peer review, sharing comments back with you to address, if you wish.
Stage 4: Peer review and funding decision
The funding panel will consider the submitted application and all related peer review information and make the final decision. The panel makes these project decisions twice a year, usually in December and June.
Stage 5: Funding agreement
If the panel agrees to fund the project, we will formalise the funding agreements and project milestones.
Stage 6: Milestone report
LifeArc and the allocated Hub continue to work with the awardee and support and manage the project to meet the pre-agreed milestones.
Stage 7: Project end and final report
The final results of the project are reviewed, and the next steps and possible further assistance discussed with the network of Innovation Hubs for Gene Therapy and LifeArc.
Allocation panel
The allocation committee is formed of scientific and business development representatives from across the three Hubs, along with a LifeArc representative. The allocation committee will recommend the most appropriate Hub to support the project matching the project's manufacturing needs to their individual capabilities. You may indicate a preferred Hub if you wish, but one will be assigned to you if you do not specify a preference in the preliminary application.
Funding review panel
All applications will be reviewed by our funding panel, consisting of external expert partners from academia, charities and industry. Read about our funding panel members here.