Funding call Status: Now closed to new EOI; full applications by invitation only to successful EOI
Chronic inflammation and non-healing wounds, and the consequent fibrosis and skin cancer initiation in severe disease subtypes, are a clear unmet need for people with Epidermolysis Bullosa (EB). LifeArc and DEBRA Austria are holding a joint call for projects to progress well-evidenced therapeutics that can be repurposed / repositioned towards clinical testing, to deliver:
Increased resolution of non-healing wounds
Prevention and / or reduction of chronic inflammation
Inhibition and / or reduction of fibrosis
Decreased risk of squamous cell carcinoma initiation in epidermolysis bullosa
About the call
Epidermolysis Bullosa is a group of rare inherited disorders where the integrity of the skin and internal mucous membranes is severely disrupted, leading to chronic tissue damage, a persistent inflammatory response, and fibrosis. Progressive systemic disease can result in multi-organ complications with life-limiting consequences and reduced quality of life. It is in chronically inflamed, non-healing wounds that aggressive squamous cell carcinoma may initiate.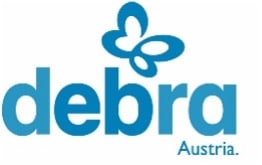 LifeArc and DEBRA Austria are partnering to commit £2.5 million to fund projects to develop therapeutics with a clear rationale for use in any type of Epidermolysis Bullosa, noting CIF (chronic inflammation, fibrosis) and cancer initiation as priority areas. This joint initiative is part of LifeArc's Translational Challenge in Rare Disease and follows a joint workshop organised on 26th May 2023.
Despite the encouraging progress in development of gene / cell therapies targeting the underlying defects causing Epidermolysis Bullosa, the workshop noted CIF remained an ongoing challenge in treating severe Epidermolysis Bullosa. It was also suggested that addressing inflammation and fibrosis in conjunction with other therapies might enhance their efficacy. As such CIF remains a research priority.
The call seeks innovative proposals to develop therapeutics for severe unmet needs that can be brought rapidly to Epidermolysis Bullosa patients: Repurposing existing therapeutics may facilitate achieving this. Projects should seek to develop therapeutics that are repurposed or repositioned, including reformulation, or have been deprioritised in development but have sufficient justification to allow them to be developed for Epidermolysis Bullosa.
The projects should take advantage of molecules that have sufficient data, which include an understanding of toxicity and PK / PD in the primary indication, to provide the basis to support rapid progress to patient treatment. Proposals should present a clear rationale with evidence for clinical value in treating Epidermolysis Bullosa.
Research groups employed at academic / non-profit research institutions, or hospitals, worldwide, are eligible to apply for funding. Collaboration among research groups is strongly encouraged to ensure all expertise needed is optimised, and familiarity with Epidermolysis Bullosa as a disease is included. Collaboration with industry is also encouraged, but the lead organisation must be non-commercial, and commercial partners cannot request funding.
Funding available
Small projects (<£100K, 12 months duration maximum) through to larger projects (£1M max; 3 years duration maximum) are all eligible.
Scope and stage of research
Applications should be based, at a minimum, on a strong non-clinical data package, with an established path to clinical development. Therapeutic nomination may be hypothesis-driven or unbiased, e.g. in silico prediction, but should be supported by a strong mechanistic rationale, as well as robust experimental validation. Activities may include further pre-clinical validation, studies to support progression to clinical development and clinical proof of concept, delivered within a suitable budget. It is the expectation that most projects will be preclinical and aimed at providing data to justify progression and prioritisation of candidates for clinical trials. Where there is already sufficient justification for a clinical trial, such proposals are in remit although limited to early phases.
Proposals should target the natural pathway of disease progression to prevent or slow the development of chronic wounds, fibrosis, and creation of the tissue environment for initiation of cancers, and might include novel evidence-based approaches to treating infection, and / or reducing inflammation, including through immune modulation, addressing the detrimental microenvironment of chronic wounds or intervening in the progressive alterations in cell fate associated with chronic tissue disruption. While the priority is interventions in disease course up to and including cancer initiation, well-evidenced novel approaches to combatting established or metastatic cancer will be considered.
Although most types of Epidermolysis Bullosa have evident skin involvement, it is a systemic disease with mucosae and internal tracts affected; treatments that address the systemic disease are especially encouraged.
Applicability of the proposed solution to other inflammatory / infected / fibrotic conditions which may or not also be prone to cancer initiation are welcome, although this is not a requirement for the proposed research.
Treatments should be applicable to young patients, and where appropriate, infants to newborns, to enable intervention before tissue damage accrues.
Proposal priority outcomes
A new therapy for Epidermolysis Bullosa that slows or prevents the natural pathway of disease progression and thereby contributes significantly to near-future clinical options for treating people with Epidermolysis Bullosa.
The use of the proposed therapeutic is well validated in a relevant disease model (in vivo / in vitro) and / or human studies.
The development of the therapeutic is complemented by relevant biomarkers that will improve the use, relevance, and progression of the therapeutic in patients.
The strategy for clinical development, including addressing IP, regulatory approval, and potential involvement of commercial organisations in further development and delivery.
Application process and deadlines
Timeline
A two-stage process will be used to select projects, with an initial expression-of-interest (EOI), followed by an invited full application.
Funding call status: Closed to EOI. Full applications by invitation only.
Funding type: Grant
Application step
Date
Call opens:
10 July 2023
Deadline for EOI submission:
10 September 2023
EOI applicants notified of outcome;
full applications open (by invitation):
9 October 2023
Deadline for full application submission:
4 December 2023
Funding decision, and successful applicants notified of outcome:
By 29 March 2024
Expected project start date:
Q2 2024
Guidance
Further information about the call, applicant eligibility, research scope and exclusions, applicant process and guidance, may be found in the Call Guidance document.
Guidance on repurposing medicines is available here:  www.repurposingmedicines.org.uk
About DEBRA Austria / EB Resnet
DEBRA Austria is a patient organisation charity dedicated to providing wide programs of support to people with any type of epidermolysis bullosa (EB), as well as research support to develop effective new treatments and clinical care.
It is a member of EB Resnet, an international network of epidermolysis bullosa patient organisations funding promising EB research worldwide and partnering with the industry, academics, clinicians, and other funders to drive translation of research outcomes to clinical benefit. Our mission is to support the development of efficacious, safe, and affordable medicines for people living with EB.
CIF / Repurposing Call 2023 – EB-Research (eb-researchnetwork.org)