Monoclonal antibodies (mAbs) have transformed the way many conditions are treated. With our purpose of transforming life science ideas into life-changing medicines for patients, LifeArc has been contributing to this transformation by humanising antibodies on behalf of others. If you would like to partner with us to humanise an antibody you have developed, please contact us.
Collaborative model: humanisation and hand back
Track record of success
Our humanisation process
Collaborate with us
Contact us
How we can partner with you
We partner with research teams and organisations to optimise and humanise the antibodies they have developed. We have a success rate of more than 98% and have humanised more than 90 antibodies as of June 2022. We can humanise mAbs from a wide range of species, including mice, hamsters, rats, rabbits, chickens and camelids, producing therapeutic candidate molecules of various modalities including VHH, IgG, Fab and VH-Fc.
Our experience and track record in antibody design mean that your candidate antibody has the best chance of successfully progressing through to clinical trials, maximising the opportunity for your antibody to reach and benefit patients. We offer a unique collaborative model where we take on the risk of the work to support teams which have the most promising candidate antibodies and meet our acceptance criteria.
Collaborative model: humanisation & hand back
No upfront payment – we take on the developmental risk so you don't have to.
LifeArc receives a small royalty on sales after market approval has been secured.
We also consider other deal structures where appropriate.
Our track record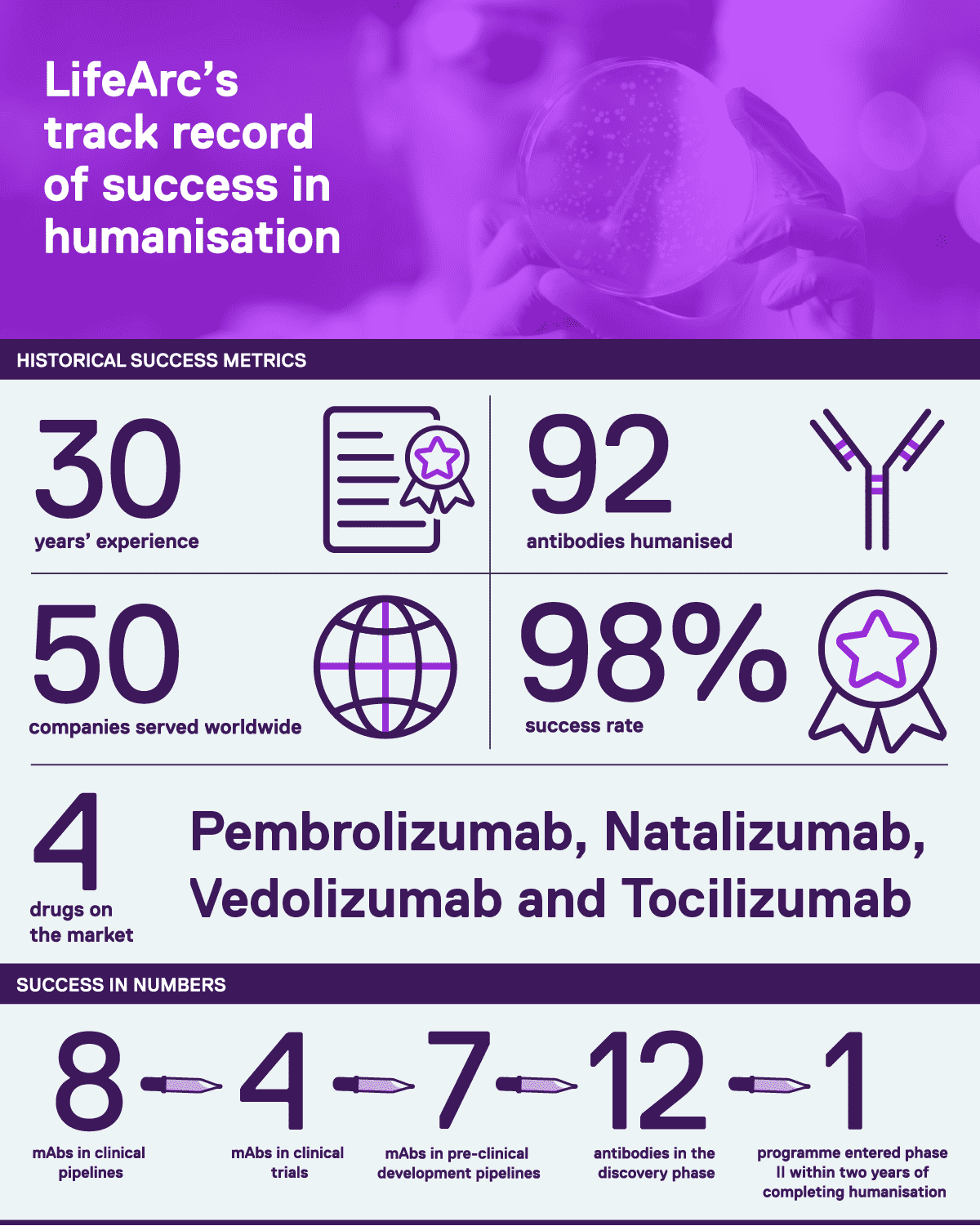 More about our track record
We have more than 30 years' experience and a proven track record of humanising antibodies, including alternative modalities like VHH, VH-Fc and Fabs, for impactful therapeutics.
We have a success rate of more than 98% in providing humanised antibodies with similar functional characteristics to the original antibody plus the ideal characteristics of a therapeutic molecule.
We have humanised mAbs which were raised from numerous species, including mice, hamsters, rats, rabbits, chickens and camelids.
We have humanised antibodies against a number of target classes – including ion channels (membrane proteins) and G protein-coupled receptors, which are valuable drug targets for many diseases.
Of the mAbs we have humanised:

Four – pembrolizumab, natalizumab, vedolizumab, and tocilizumab – are now benefitting patients with cancer, multiple sclerosis, ulcerative colitis and rheumatoid arthritis.
Four are in clinical trials (one programme entered phase II within two years of completing humanisation.)
Seven are in pre-clinical development pipelines.
A further 12 are in the discovery phase.
Collaborate with us to humanise your antibody
The humanised candidate antibodies we produce will have optimal expression levels, binding, stability and excellent biophysical characteristics. We guarantee they will have at least 85% binding compared to the chimeric protein. However, most of the mAbs we have humanised display a binding level above 95% of the chimeric antibody.
We operate on a truly collaborative model. Throughout the project, we share our progress with you through correspondence and monthly project meetings, and  provide samples of antibodies so that you can assess the engineered versions in your functional assays at different stages.
To aid the onward development of the humanised candidates, we typically deliver the humanised antibodies in around six months.
We provide you with:
10 mgs of the purified lead antibody and 2-3 back-up candidate antibodies. Our optimised molecules typically have all of the characteristics required for pre-clinical development
expression vectors for the humanised antibodies as DNA and bacterial stocks
a comprehensive report covering all aspects of the work, key data and the biophysical characteristics of the antibodies. Partners have used this when submitting an IND (Investigational New Drug) filing or making a patent application.
LifeArc can also offer additional support and advice once we have delivered the humanised antibodies and the report to you. This includes:
contributions to publications
support with patent applications/liaising with patent attorneys
advice around potential Contract Research Organisations (CROs) for onward development.
Our humanisation process
Sequence confirmation and humanisation
Our antibody humanisation service determines the sequence of the antibody you have provided and uses computer modelling to generate a 3D representation of the structure. This enables us to pinpoint the key residues that dictate the conformation of the parts of the antibody (CDR loops) that interact with your target antigen.
Using LifeArc's proprietary method and database, we then select the ideal human antibody domains from which to build candidate humanised antibodies, designed to incorporate the CDR loops of your original antibody in a way that maintains the binding affinity. To ensure product quality, we also identify and address any sequence liabilities.
Additionally, we use X-ray crystallography to determine the structure of the antibody you provide and compare this with the humanised antibodies we design. This is a great asset for defining and understanding the epitope.
We then screen the humanised antibodies, for expression, binding and stability, to identify humanised lead and back up mAb(s) representing the strongest leads for further progression and development.
Antibody generation and developability assessment
Our scientists purify the most promising humanised antibodies in two stages (affinity and size-exclusion chromatography) to provide high-quality proteins for further assessment. LifeArc generates a comprehensive biophysical dataset using a range of industry-accepted assays to select the most ideal antibody for ongoing development and to provide a data package to support future partnering activities.
Our flexible arrangements for humanising modified antibodies
What matters to us is the quality of the science and the prospect of future patient benefit. Since our aim is to provide you with the most optimal humanised candidate(s), we do not limit ourselves to a fixed number of variants like most humanisation services. Our flexible business model reflects this.
Contact us
Please get in touch with a member of the business development team using the form below.