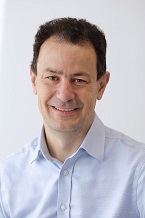 Andrew Mercieca is LifeArc's CFO. He manages our Finance department and also oversees our IT service.
Andrew qualified as a Chartered Accountant with EY in 1991 and went on to gain extensive experience in the finance profession. He joined LifeArc in 2014 where his more recent achievements include helping to lead the $1.3bn royalty monetisation for Keytruda in 2019. 
Prior to joining LifeArc, Andrew held a number of senior finance positions across both the pharmaceutical and technology sectors. Previous roles included VP Finance International at Syniverse, a global mobile technology provider, where he was responsible for financial leadership of EMEA and Asia-Pacific. Prior to this, he was Senior Director, Accounting and Reporting, at Astellas Pharma. He has also held senior positions at Merck KGaA and Samsung.
Andrew was appointed as a Trustee of LifeArc at our AGM in November 2019. He also serves as a trustee of the charity Plan Zheroes.
Back to our trustees