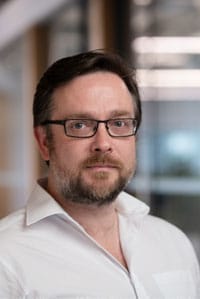 By Ciaran Fulton, Head of Diagnostics, Centre for Diagnostics Development, LifeArc
To slow down the spread of SARS-CoV-2, many countries focused on identifying and isolating infected individuals – and the rapid development of accurate and reliable diagnostic assays was instrumental to this strategy.

Driving innovation in clinical diagnostics can take time as, by necessity, it must be a controlled and regulated process. But the pandemic has created a melting pot for innovation at an incredible pace.

Mass screening strategies initially focused on the rollout of laboratory-based diagnostic assays. But as the virus gained momentum, we saw a greater push for more rapid tests that could be deployed in a wider range of settings – such as airports or schools.

The volume of new diagnostic tests hitting the market has been unprecedented – which is hardly surprising, given the scale of the problem. But with that came a fog of confusion around which tests are the best to use.

In this blog post, I reflect on the rapid evolution of diagnostics during the pandemic and the ongoing challenges. With the end somewhere on the horizon, I also look ahead to what it means for the future of our field.
Diagnostics thrust into the spotlight
Around one month after SARS-CoV-2 was first identified, its whole genome sequence was released – enabling researchers to design polymerase chain reaction (PCR) assays that remain the gold standard for diagnostics. PCR testing is reliable and accurate and lends itself to mass screening, but the downsides of the technology are that it requires specialised equipment and trained personnel.
The UK took the approach of setting up centralised laboratories to roll out large-scale PCR testing. But the combined logistics of getting samples to the laboratory and running the assay leads to a relatively slow turnaround time for delivering results – within a day or two of collecting a swab.
As the pandemic progressed and the role of asymptomatic transmission in the spread of the virus became more apparent, this highlighted the need for tests that could deliver results much quicker than PCR. Attention shifted towards lateral flow tests based on detecting the presence of viral antigens, which could be deployed as low-cost screening tools that can deliver on-the-spot results in a wide range of settings. But to date, no test on the market has yet matched the sensitivity or specificity of PCR – running the risk of false-negative results that could cause harm.
The other type of tests are immunoassays that are designed to detect specific SARS-CoV-2 neutralising antibodies in the bloodstream. However, as it takes a week or more for a patient to generate these at sufficient levels, their role lies more in monitoring how many people may have had the infection in a population – although we don't yet fully understand the immunology of the disease, such as the role that T cells play in long-term immunity.
LifeArc and COVID-19 diagnostics
As a charity, we are in the unusual and privileged position where we work to help research get to the patient, not to make money.

In the diagnostics arena, we partner with others to support diagnostic assay design, the development process and clinical validation. Our team has helped to develop diagnostic opportunities in advanced breast cancer, and one of our current projects is a new test for tuberculosis (TB) in partnership with the University of St Andrews. The assay can be used as a diagnostic of active TB infection and as a tool to monitor a patient's response to treatment.

With so many others already developing COVID-19 diagnostic tests, we felt that we could make the most impact through driving innovation. We are funding two projects that are taking radically different approaches with huge potential to benefit patients.

A team at the University of Edinburgh is aiming to develop a new blood-based test that will detect a broader range of SARS-CoV-2 antibodies than those currently used. Such a test would enable researchers to better characterise the immune response, personalise treatment, predict re-infection rates, measure the length of the immune response, provide population-level data and monitor the effectiveness of vaccines.

The other project, which is led by researchers at Addenbrooke's Hospital in Cambridge, is developing a molecular profiling panel for critically ill COVID-19 patients. Targeting 96 genes including the host immune response, viral and microbial factors, the results will help inform the most effective treatment for each patient, giving them the best chance of a good outcome.
A catalyst for change
There can be little doubt about the central role of diagnostics in global efforts to control the pandemic – and we should now grab hold of the opportunities that have become available to continue that momentum.

In the UK, the establishment of centralised testing infrastructure has certainly been a monumental achievement. These laboratories now provide exciting new opportunities to roll out other PCR-based diagnostic tests, not just for infectious diseases, but also for non-communicable diseases such as cancer.

We've also collected a wealth of clinical data from this pandemic, from which I've no doubt we will tease out new angles for diagnostic testing other than detecting the virus – for example, looking at molecular signatures of the host immune response to predict disease severity.

But what stands out to me most is the gap we had in our diagnostics toolkit. We needed simple, accurate, reliable and low-cost tests that could deliver results in minutes. To reap the biggest benefits from diagnostics, we need to create tests that are easy to access and deliver more immediate results.

Over the coming years, I think we will see a shift in the diagnostics field – albeit at a less frenetic pace. We will move from centralised testing in hospital laboratories to a new generation of point-of-care diagnostic devices in community settings – such as in GP surgeries or pharmacies.

And it's not such a huge leap of imagination that the next step will be self-testing diagnostic kits that people can use at home. I imagine there will be a range of consumer devices that become available within the next five years or so, perhaps integrated into the Internet of Things, enabling people greater access to potentially life-changing information about their health on demand.

The ability to deliver results to patients faster will be a big step forward, improving accessibility to testing and enabling more timely interventions for a range of different diseases.

While the past year hasn't been a good one for humanity, we can only hope that we can learn from it to build a better future. The field of diagnostics has been thrust to centre stage, and I am certain that it will continue to play a transformative role in improving our lives beyond the pandemic.
Find out more about LifeArc's work in diagnostics.
This article first appeared in the March 2021 issue of Labmate UK & Ireland