At a time when the world is looking to science for the answers, LifeArc marks the UN's International Day of Women and Girls in Science with a 'virtual salute' to a cohort of our remarkable female scientists and science trained colleagues. 
Around half of our employees are women and we are proud of their work in translational advice, science and funding that helps our partners transform promising science into tangible patient benefits.
This year, as part of the UN's call to achieve full and equal access to and participation in science for women and girls, we feature a photo snapshot of some of our scientists in their everyday roles*. 
From across our activities of translational science, technology transfer advice and translational funding, our scientists share what they enjoy most about their work. 
Katy
Katy is an Associate Director leading a group of scientists in early drug discovery biology.
"From the beginning of my career I've always been interested in applying scientific knowledge to 'make a difference'. During my time at LifeArc, I have had the privilege of seeing projects that we have been part of go on to become treatments for patients. This gives me a real buzz. A typical day can be very varied, this is a picture of me chairing a session at an international drug discovery conference (virtually)!"
---
Elizabeth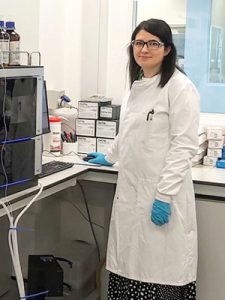 Elizabeth is a senior scientist in drug conjugates, biologics and analysis within drug discovery.
"Here, you can see me beside the high-resolution mass spectrometer (HRMS). What I most enjoy about my job is that it is never boring – I have the opportunity to learn new things all the time and I'm always being challenged with new problems to solve. I also really enjoy working in teams with people from diverse scientific backgrounds, which means we are constantly learning from each other."
---

Ela
Ela is a medicinal chemist in LifeArc's drug discovery team.
"My job is to research new treatments for various diseases. What I find most rewarding is that the research I do may one day contribute to the discovery of a new drug. Here I am, working on the purification of a chemical compound (to develop a potential cancer treatment) using column chromatography. I love the scientific challenges, science discussions with my colleagues, making new discoveries, but most importantly of all, making an impact that may benefit a patient one day."
---
Maud
Protein Scientist BioTherapeutics
"I'm in the room where we purify antibodies and other proteins. What I love about my job is when we need to go the extra mile to generate challenging proteins. When we eventually succeed, the result on the project is immediate and the impact it could have for patients is a rewarding prospect."
Matilda
Industrial Placement Student
"I'm an industrial placement student working within the protein production team at LifeArc. The best part of my job is getting to see the very early stages of drug discovery and being a part of research that could eventually change millions of lives for the better."
---
Mae
Industrial Placement Student
"I am a TechDev Industrial Placement student, currently working in the area of continuous flow chemistry. When not in the laboratory I spend a lot of time researching new technologies, predominantly the use of augmented reality and virtual reality for scientific collaboration."
---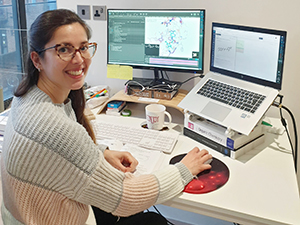 Lucia
Scientist, Computational Chemist
"I am a computational chemist so even if in lockdown, I can always do my job and have my equipment (my laptop)! I am involved in different projects to help design and prioritise compounds using computational methods.
"Contributing with my work and ideas to the progression of a project to the next milestone is what I love the most about my job. I enjoy the complexity and challenges that each project has both scientifically and in terms of personal development – working on projects also means working with different people and collaboration, communication, organisation are essential skills. Finally, my job pushes me to regularly learn something new, to keep me informed and most importantly, highly motivated!"
---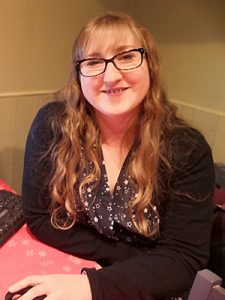 Jenny
Scientist – Bioinformatics, Technology Development
"I am creating a protein-protein interaction network around potential drug targets, which will allow me to investigate their functions and how they are connected.
"My job is often like a giant puzzle that I am trying to solve, one piece at a time. I really enjoy this challenge and the fact that my investigations into the complexity of a disease can contribute to the development of new medicines is truly rewarding."
---
Clare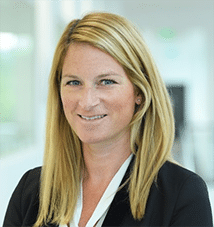 Head of Venture Funding
"I have been an enthusiastic supporter of funding for early-stage life sciences companies for many years and am very pleased to be leading the life sciences investment strategy at LifeArc."
---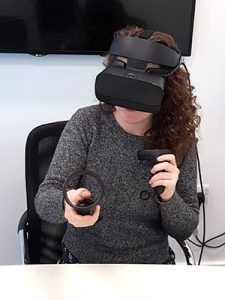 Meabh
Postdoctoral Bioinformatics Scientist at LifeArc and Milner Therapeutics Institute, University of Cambridge
"In the photo  I am using virtual reality to visualise a network of  protein-protein interactions which take place in a disease of interest, in which I am trying to identify druggable pathways. I love that my job is essentially solving puzzles."
---
Molly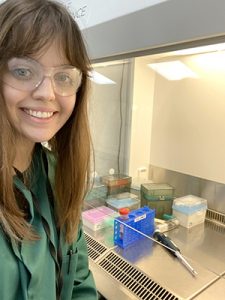 Industrial Placement Student
"I am an undergraduate student at the University Birmingham, studying MSci Biological Science with Professional Placement Year, currently doing my industrial placement. I've really enjoyed the breadth of techniques I've seen and developed, from the more biological initial stages of cell culturing and target validation, to the more pharmacological use of automation and high-throughput screening."
---
Victoria
Scientist
"I am analysing expression of cell surface proteins by flow cytometry. I love that I get to work on drug discovery projects that may one day materialise into novel therapies that would benefit patient care. It is very rewarding to be part of this. In my job, I get to set up complex cellular assays to investigate biology, which is very interesting and exciting."
---
Alice
Scientist (protein production and biophysics) in drug discovery
"Here I am purifying proteins. This enables screening of protein targets against compounds, for the identification of new drug molecules. I enjoy the varied nature of the job, working on different projects using different techniques in the lab."
---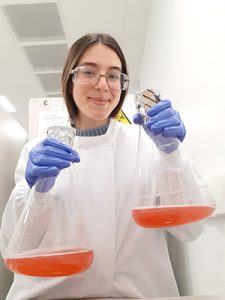 Giulia
Industrial Placement Student
"I am an industrial placement student in the Biology department. I think the best thing about science is the excitement of discovering something new which could help people. I am working on one of our antibacterial projects, expressing protein in E.coli.
"I like this project because we are working on an important threat, antibiotic resistance, which is a critical problem worldwide."
---
Teresa
Analytical Scientist in drug discovery
"The instrument behind me is a LC-MS(Q-TOF), liquid chromatography with mass spectrometry. I analyse different drugs after various assay to understand their in vitro behaviour and in this way help to identify which compound could be a "potential" new drug.
"I love implementing and developing a new assay which can be used as a new tool in drug discovery."
---
Kathryn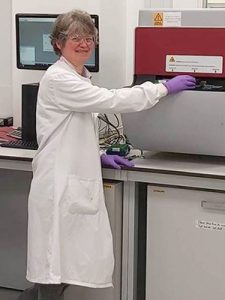 Senior Scientist, BioTherapeutics Group
"This instrument is an Octet and allows us to see binding interactions between molecules in real time. Here, it was being used to measure how much of our engineered antibodies had been produced by cultured cells.
"The best part of my job is seeing the results of an experiment, especially when they confirm a prediction and allow us to progress towards making the ideal therapeutic molecule."
---
Sharandip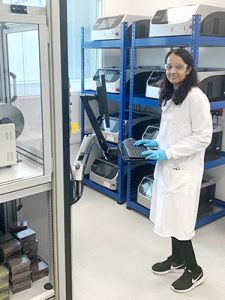 Scientist in drug discovery
"I work in the antibody discovery group within BioTherapeutics. In this picture, I was in the process of using the PAA automation system for PCR (polymerase chain reaction) set up.
"The best bit of my job is hearing and learning about interesting new science. I really enjoy testing and learning new technologies and techniques."
---
Zhi
Senior Scientist, drug discovery
"This photo was taken in front the INCell Analyzer High-Content Imaging System.
"The best part of my job is to come up with new ideas to push project forward or increase the impact of projects and knowing in a way (regardless how small) it may lead to patient benefit.  And also taking beautiful pictures of cool cells." 
---
Hayley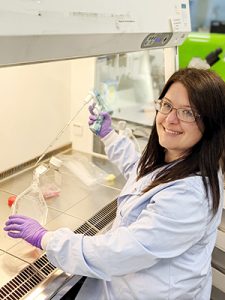 Senior Scientist, Biology
"Here I am working on cell culture, propagating a line that expresses my therapeutic target of interest, to test with drug-like molecules.
"I really enjoy the practical side of my work in the lab, which comes with great variety, and analysing pharmacological data can be pretty exciting."
---
Anji
Senior Business Manager
"My role allows me to apply my scientific, legal and business skills, to commercialise great translational science to impact patients, and develop and guide technology transfer professionals of the future. As a STEM ambassador and EDI advocate it is important for every female scientist to know that they can make a difference."
---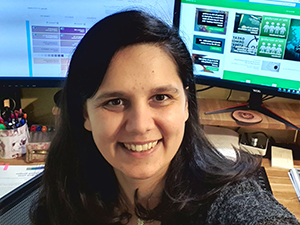 Magdalena
Clinical Development Lead in diagnostics
"My main responsibilities include planning, designing and set-up of clinical studies for diagnostic tests we have developed, and sourcing of clinical samples for the pre-clinical stages of the projects. 
"I love that in my role I continue to learn and develop skills in clinical research, and work on projects that can truly make a difference to patient care."
---
Jo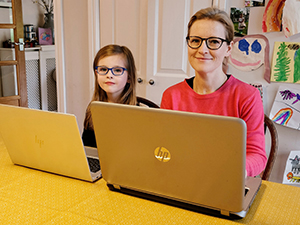 Medicinal Chemist. Pictured with her eldest daughter, working from home during the pandemic and home schooling.
"I love the problem solving and creativity involved in being a Medicinal Chemist, working with a great chemistry team and I'm really happy and proud that I can inspire my two little girls."
---
Sue
Head of Site Services
"Originally, I was a bench scientist working in Molecular Biology (I worked in the antibody engineering group), so I understand the needs of scientists and do my utmost to keep them safe and healthy through their working career. This may mean I'm up on the roof checking the extract which maintains the essential airflows within the labs.
"This is particularly critical during the CV-19 pandemic as these airflows give us the ability to work safely during this time. As well as working behind the scenes, I also carry out health & safety inspections of the labs and manage the Site Services team, which supports the scientists on many levels – from ensuring all their special kit is working, to taking away their hazardous waste! I have a unique role in LifeArc that is challenging but really fulfilling."
---
Francesa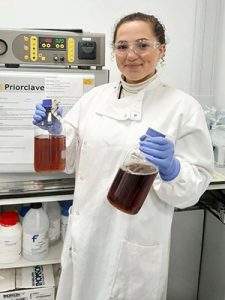 Industrial Placement Student
"Here I have autoclaved a new cultural medium ready for use in maxi-preparation of DNA.
I love designing new humanised antibody variants to see if we can improve binding as it's like solving a riddle no one has yet found the answer to, and is ultimately working towards new immunotherapy treatments!"
---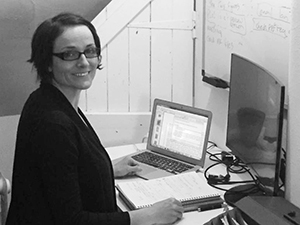 Rebecca
Senior Scientist
"This is me at my attic desk where I can mostly be found. At the moment we're recruiting for new scientists so most of my time is taken up with that.
"I really like the variety in my job – getting to work with external collaborators and on projects with colleagues across LifeArc, as well as going into the lab and analysing data."
---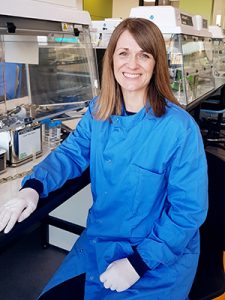 Carolyn
Senior Scientist, diagnostics 
"In the photo I am in our PCR set-up lab. What I love about my job is the sense of reward I get knowing that the work we do benefits the patient." 
---
Lisa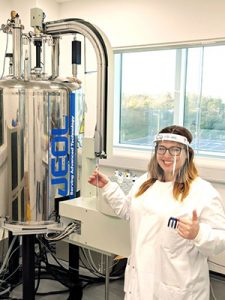 Assay Development Scientist in drug discovery
"In the photo, I'm standing by the nuclear magnetic resonance spectrometer.  I'm working on building a screening capability in order to rapidly screen potential drug targets in solution.
"I love the variety in the work that I do, working with fantastic people and on impactful science."
---
Sophie


Scientist, BioTherapeutics
"In my picture I am doing transfection for protein expression. I love the fact that my job lets me constantly learn new things."
---
Read more about our scientists' career paths, along with the advice they gave last year to inspire the next generation of girls.
*Thank you to our scientists for taking part in this important day. These pictures were posed for and no experimentation or lab-work was underway during these sessions.