Dr Ukrit Angkawinitwong is a Life Science Innovation Manager at Guy's and St. Thomas' NHS Foundation Trust where he helps to drive life science innovation by supporting the commercialisation of inventions arising from the Trust.
What were you doing before you joined the Fellowship programme?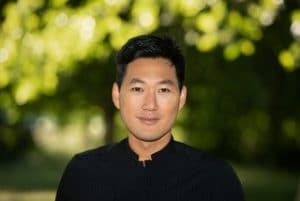 I was a postdoctoral researcher at UCL School of Pharmacy. My projects focused on formulating a long-acting, anti-VEGF ocular implant for treating wet-age macular degeneration and repurposing treatments for rare mitochondrial diseases. Prior to my post-doc, I worked at a UCL spinout as a laboratory scientist. The company developed an in vitro model to test the pharmacokinetic properties of ocular drugs and novel ocular delivery systems.  As their first hire and in addition to my scientific role, I was also responsible for various business development, business strategy and marketing activities.
What attracted you to the programme? 
I have been passionate about commercialising research since I was an academic researcher and had previously engaged with UCLB, the technology transfer office (TTO) of UCL, during my PhD and postdoc. I was fascinated by how UCLB helped maximise the value of my research beyond the dissemination of knowledge through academic publications. I was struck by the complexity of issues along the translational pathway and how advice from UCLB helped overcome those challenges. It was this interaction with UCLB that stimulated my interest in pursuing a career in technology transfer.
When I learnt about the LifeArc Fellowship, I appreciated that this would be an excellent opportunity to pave my way for this career. The on-the-job training during the programme would allow me to upskill and build on the business acumen gained from my past experiences in academic research and as part of a spinout. A quarterly rotation working in four different TTOs was also appealing as it allowed me to learn their approaches and policies that led to their remarkable successes.
What were your first impressions when you started your first rotation?
My first rotation was at UCLB where I worked across the BioPharm and Legal Affairs teams. Even though I started the Fellowship remotely, I was welcomed into the team and was involved in various tasks and projects from both teams. Working in the Legal Affairs team gave me a better understanding of legal issues that need to be considered when commercialising university research. The knowledge I gained gave me a strong foundation that was transferable to other rotations throughout the Fellowship.
What were your highlights of the Fellowship? 
Working in the Startup Team at Imperial College Innovation was one of the highlights of the Fellowship. I assisted Seed Fund Manager Dr Brijesh Roy, in managing the Imperial College Innovation Fund. This experience was beyond my expectations and provided extremely valuable work experience. I felt overwhelmed initially as I had no prior knowledge or experience in early-stage or seed investment, but with the support of the Startup team I was quickly brought up to speed. I was involved in many of the Fund's activities including screening the investment readiness of Imperial startups, managing an online event showcasing Imperial startups and evaluating digital investment platforms to deploy to improve the process.
Another highlight of the Fellowship was supporting a LifeArc Business Manager in the Technology Transfer team to file a patent application a week before the paper disclosing the invention was published; there was a tight deadline owing to this imminent publication. I evaluated prior art documents to assess the likelihood of the application proceeding to grant. The case was a good exercise for me to learn how to deal with unexpected circumstances under time constraints and uncertainty. A further highlight were seminars on technology transfer presented by Tom Hockoday and Kathy Ku, long-standing members of the technology transfer community from Oxford and Stanford University respectively. 
How has your career progressed after the Fellowship?
After the Fellowship, I was selected for the first cohort of the Cancer Tech Accelerator supported by Cancer Research UK, Capital Enterprise and Roche UK. During the programme, I developed a business plan for technology about a novel local delivery system for cancer immunotherapy that was diversified and built on my research project at UCL.
I then joined the Commercial Directorate at Guy's and St Thomas' NHS Foundation Trust as a Life Science Innovation Manager. My role encompasses every aspect of driving life sciences innovation and developing commercialisation opportunities from inventions within the Trust. It also involves managing relationships with multiple stakeholders.
How has the programme helped you with your career?
The Fellowship provided me with unique and valuable experiences. I learnt a significant amount over the year, which provided me with a huge leap forward in my career development. I developed the hard and soft skills required for thriving in technology transfer. Working in different offices exposed me to the complexities of research commercialisation, the varying strategies of different TTOs and the power dynamics that come into play for successful translation. The Fellowship also afforded me the opportunity to build my network which I can leverage in future roles.
How would you describe the programme to your peers? 
The LifeArc Fellowship programme exposed me to complementary aspects of commercialising research that I had no experience of before. The programme equipped me with all the core skills for a career in technology transfer. It is a constant 'learn, unlearn, relearn' cycle within this one-year training because every project you work on from day one is unique and has different challenges. You will have the privilege of working with talented scientists and experienced business managers from leading TTOs to turn innovative research projects into societal impact. I would highly recommend this programme to anyone who considers pursuing a career in technology transfer. You will enjoy and benefit from the training experience, mentorship and network that springboards and fosters your professional career development.
If you are passionate about translating scientific breakthroughs into real-world solutions in healthcare, the LifeArc Fellowship provides an opportunity to be a part of the translation journey. I would highly recommend the Fellowship to others looking to pursue a career in technology transfer.