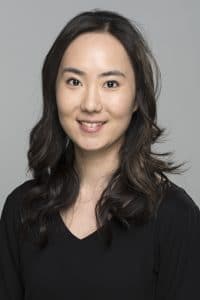 Joo-Hee Sir is a Business Development Manager at the Institute of Cancer Research.
What were you doing before you joined the Fellowship programme?
I was working as a Research Funding Manager in the Therapeutic Discovery Funding Team at Cancer Research UK. As a primary scientific contact for the small molecules and biotherapeutic programmes at the charity, I enjoyed working for the research community regarding all aspects of translational funding in the drug discovery space. This included advising on scientific remit, handling enquiries about research initiatives, identifying appropriate reviewers, conducting portfolio analysis, delivering panel and committee meetings, and providing scientific feedback from the Drug Discovery Committee to the academic community.
Towards the end of my time there, I was also brought in to work on the Brain Tumour Awards, one of the charity's largest strategic awards dedicated to a single type of cancer.
What attracted you to the programme? 
The programme presented a unique and rare opportunity to gain experience across the 'full spectrum' of the technology transfer process, whilst working at LifeArc, Imperial College London, Queen Mary Innovation and UCL Business, which are some of the best technology transfer offices in the UK. The fellowship also seemed like a perfect opportunity to upskill and diversify my work experience at the interface of academia, research translation, and commercialisation.
What were your first impressions when you started your first rotation?
I started my first rotation in Dr Govind Pindoria's Start-Up Formation Team at Imperial Innovation (now Imperial College Innovation) and immediately felt welcome and trusted to get on with various tasks. As an alumna of Imperial College London, I was excited to be back at the campus and enjoyed working with those academics who were considering to set up a company or were already in the process of spinning out a company, some of whom I had previously interacted with as a Research Funding Manager at Cancer Research UK. No two days were the same and every technology transfer project was different, which made the job challenging at times but interesting and stimulating. There were also a lot of uncertainties and unknowns for some early-stage projects concerning 'first of its kind' technologies or 'unconventional or unestablished' therapeutic modalities, requiring lateral thinking to find a suitable commercialisation route.
What were your highlights of the Fellowship?
The first week of training and lectures delivered by some of the best technology transfer and legal professionals in the UK was one of my highlights of the programme. I could not quite believe that all these leading professionals made time primarily for the four of us on the programme, though the lecturers were open to and attended by many people from the four participating offices. Another highlight of the fellowship was attending a hearing on a patent litigation case at the UK Supreme Court. Strictly speaking, this was not part of the 'curriculum' but was nevertheless a very interesting experience from an IP and legal perspective. Finally, LifeArc's Christmas party where I correctly guessed the structure of Keytruda® (pembrolizumab) and received a LifeArc-branded mug as a prize was a social highlight of the programme for me.
How has your career progressed after the Fellowship?
After my three rotations (Imperial Innovation, LifeArc and Queen Mary Innovation), I took up a technology transfer role in the Industry Partnerships and Commercialisation Team at Imperial College London where I managed a portfolio of technology transfer projects in the Faculty of Medicine. I was subsequently recruited back to my former employer, the Institute of Cancer Research, as a Business Development Manager in the Business and Innovation Office (formerly, the Enterprise Unit). This technology transfer role also encompasses business development and partnership activities, making the role broad in scope and interesting. I am currently supporting the commercialisation of a number of cutting-edge innovations in the field of digital pathology, artificial intelligence and companion diagnostics via licensing and spin-out routes. Though challenging at times, it has been fascinating to work on such emerging technologies for which there is no obvious precedent or 'standard' commercialisation route.
How has the programme helped you with your career?
The programme has significantly helped me with my career as I have been able to combine my scientific research and funding experience with technology transfer and apply different skills and experiences in my current role. During the fellowship, it was also interesting to learn about how different technology transfer offices are organised, how they operate, what their best practices are, where in the research commercialisation space they are positioned, who they serve and for what purpose. So, I would say the programme has helped me gain a holistic understanding of technology transfer beyond technical insights. The fellowship experience has also been valuable in my subsequent roles in being able to suggest different ways of delivering on technology transfer projects and improve on processes where necessary.
How would you describe the programme to potential applicants?
This programme is run in the true spirit of fellowship in the sense that the answer from Dr Georgia Gliki (Senior Business Manager at LifeArc) has always been 'yes, of course, you can! – it's your fellowship, empowering me to shape my own learning experience and participate in various technology transfer-related events and activities. This would normally not be possible in most jobs (at least not as flexibly as in a fellowship) where you are expected to deliver on clearly defined tasks to often tight deadlines. So, if you want to make the transition to technology transfer or upskill in particular areas of technology transfer, then apply to the fellowship scheme and enjoy the mentorship, technical training and the flexibility it affords for your personal development.
I would like to take the opportunity to thank all my mentors for being so generous with their time, knowledge and expertise – their mentorship was what made my fellowship so enjoyable and successful.