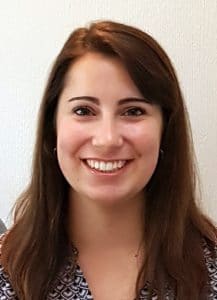 Dr Jennifer Pritchard is a Business Manager at LifeArc where she helps provide funding support for academics via various funding calls, as part of the Philanthropic Fund Team.
What were you doing before you joined the Fellowship programme? 
I had a varied role working at a small technology start-up developing a mobile application. Prior to this I completed my PhD and a short Postdoc at Birkbeck, where my research was focused on transcriptional regulation of Mycobacterium tuberculosis using X-ray crystallography and cryo-EM techniques.
What attracted you to the programme?
I was introduced to technology transfer at a career's session during my PhD and the idea of supporting the commercialisation of cutting-edge technologies and inventions really appealed to me. However, I wasn't sure how to enter the profession as there seemed to be limited entry-level roles available.  The LifeArc Technology Transfer Fellowship therefore seemed like the perfect opportunity to gain technology transfer experience and to develop my skillset in four leading technology transfer offices (TTOs). The rotations were all focused on different aspects of technology transfer which appealed as a great training opportunity and a chance to learn from highly experienced teams.
 What were your first impressions when you started your first rotation? 
It was not possible to meet in person due to the Covid-19 pandemic, so the Fellowship year involved remote working. However, this worked effectively and during every rotation at each of the TTOs, I felt welcome and included by all the teams. The programme began with an induction week with sessions on various aspects of technology transfer, which proved incredibly useful. My first rotation was at LifeArc which provided the chance to work with the Opportunity Assessment Group and the Technology Transfer team. Both teams were incredibly supportive, taking the time to train and involve me in activities straight away. Members of the teams were always willing to answer my questions which enabled me to learn a huge amount.
What were your highlights of the Fellowship? 
There were many highlights from the Fellowship year, including helping to conduct due diligence for several patent filings and presenting a new technology disclosure at a departmental meeting at UCLB and supporting due diligence for a range of opportunities whilst at LifeArc, including Covid-19 research projects. I also enjoyed helping to market technologies to commercial partners during my time at QMI and engaging with startups and shadowing the Imperial investment team as they deployed the Imperial College Innovation Fund.
How has your career progressed after the Fellowship?
Since completing the Fellowship, I have joined LifeArc's Technology Transfer Team working as a Business Manager. My role involves supporting several funding calls including the Philanthropic Fund for advancing treatments and diagnostics for rare diseases, the LifeArc-Crick Translation Fund and LifeArc's Covid-19 call. I also support the joint fund with MND Association and My Name'5 Doddie Foundation which aims to accelerate motor neuron disease research and the joint fund with Action Medical Research which focuses on children with rare diseases.
How has the programme helped you with your career?
The experience and training gained from the Fellowship have been invaluable for my current position as I am able to apply the knowledge and skills gained in my day-to-day role. Moreover, spending time at four different TTOs provides a unique opportunity to observe the technology transfer process from different perspectives.
The Fellowship provides valuable hands-on experience and exposure to all aspects of technology transfer and offers the chance to develop a broad skillset and build a professional network. The opportunity to train in four-leading TTOs is a huge advantage of this programme.