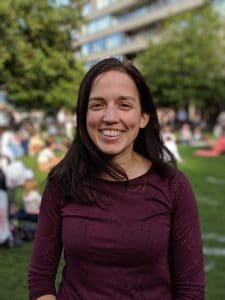 After completing the Fellows programme, Diana Alexieva joined the Innovations Team at the NIHR as Programme Manager, with responsibility for the funding streams offered to support the development of medical devices and digital healthcare technologies.
What were you doing before you joined the Fellowship programme?
I was a researcher at a database for oncology treatments, focusing on checkpoint inhibitor therapies, when I found out about LifeArc Tech Transfer programme. My role at that time was quite varied, and involved following the market and creating reports for subscribers, as well as working with the marketing and sales teams. Prior to this, I had completed a PhD in molecular biology, more specifically in the regulation of miRNA expression in embryonic stem cells.
What attracted you to the programme?
I really liked the fact that four different Technology Transfer Offices (TTOs) with a lot of experience and impressive achievements were taking part in the programme. I think this is a great learning opportunity because everyone has a slightly different approach to the same process. It is important to get this exposure and be aware of what works best to improve the path that innovative technologies take to reach the public. Another thing that appealed to me was that my time at each TTO would be focused on training in a different area of tech transfer.
What were your first impressions when you started your first rotation?
Despite having a mixed background of academic research and commercial experience, I had never been in combined the two. During our training at the beginning of the programme, I was overwhelmed by the complexities of technology transfer and how many things must be taken into consideration by the technology transfer officers. I was really impressed by how friendly, approachable and collaborative people are in this field.
What were your highlights of the Fellowship?
Definite highlights of the programme were a couple of competitions I was involved in during my secondments: a proof-of-concept funding competition and a competition for early-stage researchers aiming to enter a training programme focussing on commercialising their ideas. In addition, my final rotation at LifeArc started just before the first COVID-19 lockdown. I was really pleased to support LifeArc's internal diligence team called the Opportunity Assessment Group, in performing due diligence on applications for the £10 million funding call announced by LifeArc with the aim to support research and testing of therapeutics that could be rapidly deployed to help address COVID-19.
How has your career progressed after the Fellowship?
After the Fellowship I joined the Innovations team at the NIHR as a Programme Manager for the funding streams offered to support the development of medical devices and digital healthcare technologies. My experience in the Fellowship was valuable in this role, as it involved undertaking due diligence of funding proposals, including reviewing the scientific, technical and clinical rationale, evaluation of proposed IP protection and freedom to operate positions and assessment of the proposed adoption and commercialisation strategies. The Fellowship was a stepping stone into the innovations arena and I believe it would be highly beneficial in any future endeavour.
How has the programme helped you with your career?
It helped me understand where the bridges are between academia and business and how they can be crossed. I gained practical knowledge and exposure to crucial elements that make up the technology transfer process, which is a significant head start in a field in which I had no prior experience. In addition, some of the areas on which the programme focussed are often experienced by technology transfer managers when they start their first job, without prior training. Another big advantage of the programme are the networking opportunities that come up quite often.
How would you describe the programme to your peers?
It is immersive and feels quite dynamic, changing place every three months. It is about building skills beyond scientific knowledge in a way that you can only do through experience. Every TTO has its own peculiarities and the programme is an opportunity to learn about them. You never know what you are going to learn each day because every conversation with anyone in the office has the potential to bring out a lot. I really enjoy staying in touch with the other fellows on the programme. It is a journey that we are taking together, and I value sharing our experiences along the way.
I would really encourage anyone who is interested in technology transfer to apply for next year's run of the programme, because it is a unique opportunity to get an insight into some of the best TTOs and learn from professionals with a lot of interesting experience in the field.