Rachel Spruce – Business Development Manager, University of Birmingham Enterprise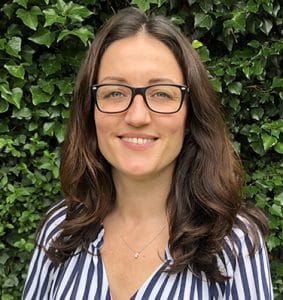 When I became a LifeArc-AUTM Fellow, I was a senior postdoctoral researcher at the University of Birmingham. I have roughly 11 years' experience as an academic scientist investigating (predominantly) cancer biology.
I heard about the programme from a colleague at the University. I was interested in applying as I wanted a career change – I didn't want to postdoc forever and I wasn't interested in applying for a scientific fellowship or going down the lectureship route.
Skills to get ideas from the bench to the patient
My main goal as a scientist was to improve treatments for patients. While I understood how to develop concepts and ideas to fulfil this, I had little knowledge of how to get these ideas from the bench to the patient. To enhance my research and because I was interested in a career in technology transfer, I wanted to understand this process. The LifeArc-AUTM fellowship has given me the opportunity to learn this. In addition it has allowed me to develop many skills that will enable me to be actively involved in the process.
I now have a much deeper understanding of technology transfer. I am pleased to say that after a 3-month internship, I am now working for University of Birmingham Enterprise as a Business Development Manager in IP, licensing and commercialisation.
AUTM tools and essentials
My highlight was attending AUTM's 2019 Essentials Tools course. It was a fantastic way to kickstart the fellowship. I had a really enjoyable time, learnt a lot and was able to make a number of connections. The webinars have also been fantastic, they have been a real help during my internship at University of Birmingham Enterprise and as I began my new role as a Business Development Manager. I am looking forward to attending AUTM's and ASTP's annual conferences.
I was lucky that my internship started eight days before COVID-19 lockdown. This meant that I had the opportunity to meet the team in person before continuing to work from home.
Broadening career goals
My next goal is to continue to train and acquire experience to become a successful Business Development Manager. As I have now secured a role in technology transfer, I am gaining experience all the time. I am looking forward to attending the courses at AUTM's annual meeting next year and I am continuing to watch the webinars that AUTM have made available to me. I also intend to apply for candidate RTTP professional accreditation in the near future.
The LifeArc-AUTM fellowship has opened so many opportunities for me and has been instrumental in enabling me to make a career change from academia into a technology transfer office. It has provided me with the opportunity to develop crucial knowledge and skills and establish a large network of international connections. The programme has exceeded my expectations and I have had a great deal of fun along the way.
Connect with Rachel on LinkedIn