Dr Sara Garcia Gómes
Translation Research Associate, Francis Crick Institute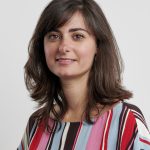 By the time I applied to this Fellowship I was a postdoc at the Francis Crick Institute looking at opening my career to different opportunities than the well-known academic pathway. I've been always intrigued by translational science and amazed by the idea of lab discoveries getting into the clinic, so when I saw this Fellowship advertised, it was clear to me!
When I started the 2018 programme, I thought it would be a huge commitment but at the same time I was looking forward to learning everything about the profession and make the most out of the year.  To my surprise the learning experience was rather easy going. The Technology Transfer essentials course was fantastic, facilitators did a great job explaining and sharing their own practices and we had case examples to apply what we were learning.
I not only learnt a lot but also started creating a network of colleagues that got exponentially extended during the AUTM and Praxis conferences later in the year.
Furthermore, having access to AUTM webinars complemented really well the training as you can increase your knowledge on very different topics around the field.
In my case, when I came back from the course in Dallas (US) I felt more than ready to jump into the profession and I was offered to spend a year in the Translational Team at the Crick During that time I was exposed to everything they manage and quickly started to get responsibilities.
Both, the formal training provided by the LifeArc/AUTM fellowship and the time spent in the Translation Team at the Crick made me finish the year having acquired the skills needed to further develop my career in Technology Transfer, what I'm currently doing at UCL Business.