Dr Gaganmeet Singh
Cancer Research UK, Translation Manager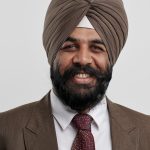 My journey into technology transfer could not have been more smooth if it was not for AUTM/LifeArc Tech. Transfer Transition Training Fellowship.
I had started exploring opportunities in this area before applying for the programme. But what I did not realise is the difficulty in breaking into the new workspace. I sincerely appreciate specific knowledge and skills required to carry out functions efficiently in any area. The Fellowship and the structured programme served this at best.
It opened the doors to the world of experts and learning from the best in what they practice.
The Fellowship programme is most unique in its, or any, space where it allows you to go through self-learning, continuous guidance through on-site workshops or taught courses and huge online webinar content. The programme has been very engaging with timing, sequence and content of courses ideal for newcomers. The teachers were all very forthcoming in providing advice and helpful in sharing their network. The access to experienced mentors (both with US/UK) was key in clearing any recurring doubts and planning a structured path.
Most importantly, the programme opened my mind to the various opportunities available within the broader area of technology transfer all whilst giving me time, a whole year, to navigate and plan.  It served as a great platform to kickstart my career into technology transfer. The year-long learning experience culminated in an internship at a university technology transfer office which ultimately paved the way to securing a regular position. As titled: 'career transition training programme' I would say it not only served its purpose but has gone beyond.