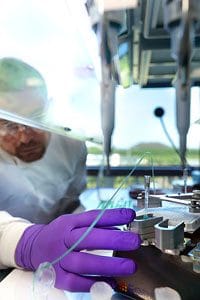 LifeArc invites proposals for diagnostic tests designed for use on any high-throughput sequencing platform. Proposals that address an unmet clinical need in precision oncology, neuroscience, and antimicrobial resistance will be prioritised over other disease areas. Any sequencing protocol is acceptable, including, but not limited to, genome sequencing, RNA-Seq, targeted or amplicon sequencing. The proposed diagnostic must be able to identify or stratify patients such that their clinical treatment can be improved.
To apply, please complete the form at the bottom of this page and send it to us by 19th July. Applications will be considered on a first-come, first-served basis and the call may be closed before the advertised deadline if suitable projects are identified earlier. Please contact us if you would like to discuss your proposal with us prior to submission.
Why collaborate with LifeArc?
By working with LifeArc you will have access to all the resources and expertise you will need to help you progress your research-developed assays to a clinical standard. By taking your opportunity through pre-clinical proof of concept, we will add industry recognised credibility to exciting cutting-edge research. Our role can include:
Robust testing, development, and validation of your proposed test, including all wet-lab and analysis steps, under an accredited quality management system (essential for moving a diagnostic to market)

Carrying out a systematic evaluation of the potential value of your test (health economic landscape)

Consulting with clinicians to establish how your test could fit into the standard health care pathway

Using machine learning to make your test less complex

Licencing to a manufacturing partner

Providing IP support and advice

Sourcing relevant clinical samples
Minimum requirements for collaboration with LifeArc
Your test should have been discovered in a suitably large (i.e. based on power calculations) and complex dataset and tested in at least one other suitable independent dataset. The diagnostic test must provide clinically actionable information. This information could be a new diagnosis, prognosis, or information for genetic counsellors. As we work in the translational space, proposals relying on data solely derived from cell lines or animal model studies will not be considered in this call.
How will the collaboration work?
All our collaborations are different, and this depends on such factors as how much our partners want to be involved or participate in the development of the selected project. Generally, LifeArc will carry out a feasibility study to test the reproducibility of your assay. If this is successful, we will then undertake a complete design and development process when your assay will undergo any necessary refinements and testing to advance it to a clinically applicable standard. We will work with you to commercialise your diagnostic, and to establish a legal framework to protect your IP.
We also survey clinical opinion on the need for your diagnostic and aim to identify potential manufacturing partners. Throughout this process, LifeArc's resources will be used to progress and actively manage the project, but all parties are encouraged to contribute and play an active role.
Application process
The first stage in the application process is based on information provided in the following online form. Applicants who are successful at this stage will then work with LifeArc's Assay Development Team to test the feasibility of the proposed diagnostic and to understand how this will result in patient benefit.
Disclosure of information
Please be aware that LifeArc works with a select network of industrial and pharmaceutical partners in the development of its collaborative programmes. Only include non-confidential information that you are prepared to share with this network to help LifeArc assess its commercial and clinical merit. If you have any concerns or want to send confidential information in addition to the application, please contact us before submitting your form.