Chairman's introduction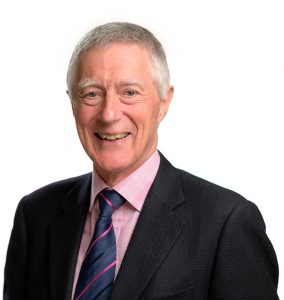 I am proud to present our annual report and accounts for the nine months from April to December 2019. The short period of this report reflects a shift in our financial year, which in future will run from January to December.
During this period we completed the monetisation of a portion of our Keytruda royalty stream, purchased by CPPIB Credit Europe S.à r.l, a wholly owned subsidiary of Canada Pension Plan Investment Board (CPPIB), for $1.3bn. This has made LifeArc one of the leading biomedical translational research charities in the UK by the size of its financial assets.
Principal challenges
One of the principal challenges of 2019 was to ensure that we manage the investment of these funds wisely and they will be used optimally to achieve our charitable objectives. We have taken a fresh approach to ensure our investments service both our short-term goals and our longer-term strategic ambition. Our transformed financial situation enables us to take a more long-term view of our unique role in the translation of biomedical innovations. During 2019 we carried out a review of key developments in our sector, identifying and clarifying our long-term ambition and the needs that we are best placed to address.
Our ambition
Our ambition is based on our three core offerings: translational funding, advice and science.
Our funds, particularly the Philanthropic Fund and Seed Fund, represent new approaches for LifeArc, to address some of the considerable gaps in the funding of UK translational research.
Our charitable model allows us to invest in projects where commercial returns may be low, but the potential for patient benefit is significant. We are also increasingly sought after as a source of holistic translational advice.
I am proud that we continue to work closely with the Medical Research Council, supporting their translation portfolio and another 19 different charitable and academic organisations which have benefitted from our advisory support over the reporting period. We also continue to support the sector through our collaborative drug discovery and diagnostic research conducted in Stevenage and Edinburgh.
Our project pipeline supports innovation in key disease areas such as oncology, infection and neuroscience; while in the wake of this year's COVID-19 pandemic we have taken immediate action to invest significantly in the search for re-purposed treatments.
These are unprecedented times for our sector and for our society. The need for innovation and its translation to improve patient care has never been more keenly felt. LifeArc is uniquely placed to help meet this need.

LifeArc Annual Report April-Dec 2019 (PDF – 5MB)
Operational highlights
3

New research businesses supported by Seed Fund investment


Our investment is intended to help promising science start-ups scale up.

21

Individuals development supported with LifeArc placements


Our fellowships and industrial placements offer university students and professionals training in translational skills and knowledge.

10

Rare disease research projects benefitting from investment Our Philanthropic fund is supporting projects to develop new therapies to address the needs of patients with rare diseases.

19

Charities supported with translational advice
Charities supported with translational advice We offer advice on research portfolio assessment and translational investment.
Financial highlights
£971.2m

Keytruda monetisation
The partial monetisation of LifeArc's Keytruda royalty stream for $1.3bn in May 2019.

£32.8m

Gains on investments: Total
Increase of £24.7m on prior year. Gains on investments include £24.8m unrealised gain on the Venture Capital Fund in nine month period to December 2019.

£27.6m

Total expenditure
Decrease due to shortened period. Extrapolated to 12 months – total expenditure would be £36.8m, up £6.2m on prior year.

£8.2m

Investment in translational funds
£4.1m Venture Fund, £3.5m Seed Fund, and £0.6m Philanthropic Fund in the nine months to December 2019.